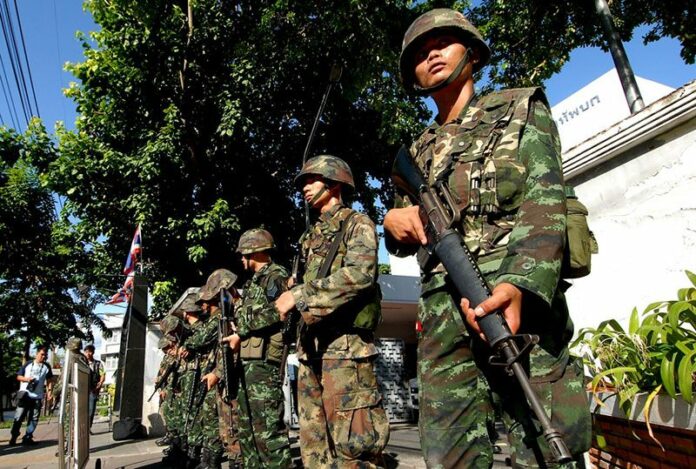 BANGKOK — Soldiers last night were granted sweeping authority to conduct warrantless searches of homes, seize assets and detain civilians without charge.
On the order of junta chief Prayuth Chan-ocha, a wide range of powers usually reserved for civilian police were bestowed to members of the military Tuesday night, ostensibly to carry out the junta's policy of rooting out underworld influences and unduly "influential people" in the economy and society.
Under the order, soldiers appointed by the junta have powers equal to police for crime suppression. Soldiers from the rank of sub-lieutenant and up are heretofore named "suppression officers," while their subordinates will assist them.
Prayuth's order, issued under the absolute power his junta wrote for itself under Article 44 of its interim constitution, went into immediate effect.
Soldiers can now search individuals and take their property without any judicial review, so long as the soldier suspects involvement in a crime.
They can also bring anyone in for interrogation under such suspicion. If needed, they can detain people without charge for up to seven days.
The move is another example of the junta bypassing civil society and process, senior researcher Sunai Phasuk of Human Rights Watch said, and can lead to abuse of power.
"It shows the preference for unchecked action which can be carried out with total impunity," he said.
Sunai said the list of influential figures recently released contained community leaders targeted by the military and government for defending their community rights, mostly in cases concerning conflict over resources.
Sunai cited the recent case of Lamom Boonyong, a 65-year-old community leader in Rayong province who has fought to save his local fishing community from military eviction. He was just summoned by military on Tuesday under the cover of the government's "influential figures" crackdown.
Since the military seized power nearly two years ago, it has posited itself as a corruption-buster willing to take tough measures to eliminate the graft endemic to all levels of society. A proposed constitution for the nation released Tuesday, written by junta appointees, strengthens its grip on power under the same argument: ending corruption.
Tuesday's order from Prayuth's interim cabinet establishes a parallel and separate process from the traditional institutions of justice.
"But the detention must be in places other than police stations, detention facilities, correctional institutions and prisons," the order said. "And that individual must not be treated as an alleged offender."
If people are deemed guilty, their cases will go forward under "related laws," it continues. Suspects can be released without condition or under certain restrictions, such as losing their freedom to travel or engage in financial transactions.
The order makes no mention of what would happen were a suspect found not guilty after detention.
It also shielded any actions taken under the order from administrative review and extended legal immunity to any soldiers "who honestly carry out their duties." Those who claim to be adversely affected will retain the right to file for compensation.
The order requires soldiers who suspect involvement in the following crimes to exercise their new power: making criminal threats, smuggling drugs, gambling and weapons possession.
Police spokesman Krissana Pattanacharoen responded to the order Wednesday, saying he believed the junta empowered the military with police powers to support the police, as he said they don't have enough officers.
He said he did not think the order granted soldiers excessive power.
Related stories:
Thai Junta Expands Military Power in New Order, Citing Article 44
Thai Junta Chairman Downplays Article 44's Autocratic Powers
Junta Clarifies Scope of Article 44's Sweeping Power
Trust Prayuth with Article 44, Thai Govt Says