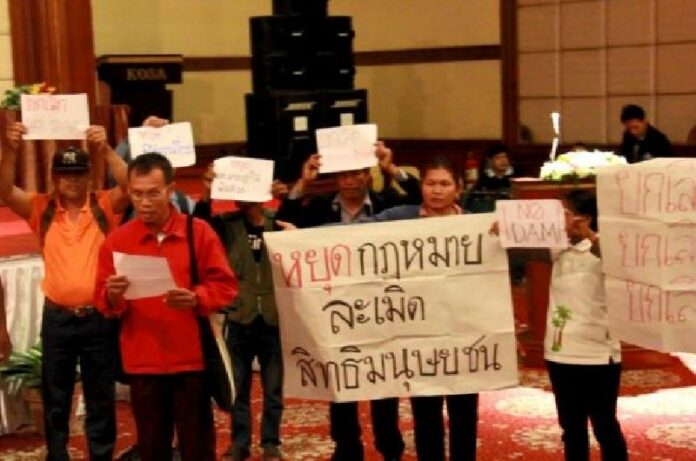 BANGKOK — Chairman of the National Human Rights Commission said he decided to walk out on a group of activists stating their grievances at a forum today because it wasn't on the agenda.
Wat Tingsamitr, who late last year was appointed Thailand's top defender of civil rights, said the community rights activists of the New Isaan Movement did not get permission before they started reading from a declaration condemning civil rights abuses in the northeast.
"It had nothing to do with our event. Let me ask, if you were me, would you have stayed?" Wat said by telephone.
The incident took place in Khon Kaen province at a forum sponsored by the rights commission at which six groups of community leaders and activists met to discuss civil rights issues with the commissioners.
Among the groups was the New Isaan movement, which in their statement criticized the ruling junta for invoking its absolute power to push through infrastructure projects by waving the need for reviews of environmental impact.
During the comments made at the end of the forum by a group representative, Wat stood and walked out, leaving the activists visibly upset, according to a Thai PBS report.
Wat added that he was pressed for time because he had to catch a plane back to Bangkok. All seven members including Wat were appointed late last year by the military government to the commission, an ostensibly independent government body.
The commission has long been criticized by some activists as being a relatively weak voice for human rights in Thailand, compared to stronger condemnations expressed by international watchdog groups.
Related stories:
Outgoing Rights Commission Criticizes Junta, Pre-Coup Protests
Thai Human Rights Commission Slated For 'Downgrading'
Activists Protest Thai Human Rights Agency's Post-Coup 'Silence'
Teeranai Charuvastra can be reached at [email protected] and @Teeranai_C.