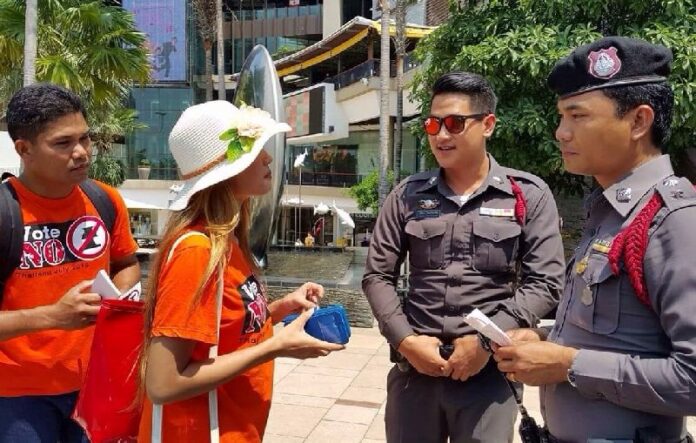 By Pravit Rojanaphruk
Senior Staff Writer
PATTAYA — Activist Anurak Jeantawanich claims police stopped him from campaigning against the junta-sponsored draft charter around 2pm this afternoon in Pattaya after he and his three colleagues managed to engage in the activity for half an hour.
Anurak, aka Red Ford Path, told Khaosod English that it's becoming more challenging to do street campaigns as soldiers and police are keeping a closer eye on him. He claims that he and his fellow protestors were stopped by two uniformed police, two non-uniformed police and one soldier wearing civilian clothing.
"It's getting more difficult because I am being trailed all the time. Every week, soldiers and police would ring me up or ask me [on social media about his planned activities for Sunday]. We have faced disturbances and obstacles through various means," said Anurak, referring to a recent episode where he alleges menacing men trailed and harassed him and his friends as well as a visit by military officers to his home in Samut Prakarn province, in southeastern metro Bangkok.
Anurak, 48, tries to dodge the junta's ban on political gatherings of five or more persons by always assembling a maximum of three other people. He also carries both "Vote No" and "Vote Yes" stickers to show that he's not forcing anyone to take only stickers rejecting the charter draft.
"I have been campaigning [every Sunday] for eight weeks now and believe the mood is that people will reject this draft charter," Anurak said.
Anurak has declared himself against the draft charter, saying it's undemocratic, citing problematic issues such as Article 54 that cancels state funds for the last three years of secondary education (Mathayom 4-6).
Before four police officers and one non-uniformed soldier halted their activity in front of Central Festival mall in Pattaya Sunday, opposite the beach, Anurak said he and his colleagues managed to talk to 8 or 9 motorcycle taxi drivers and some foreigners. He said all but one of the motosai drivers asked for "Vote No" stickers while one driver requested a "Vote Yes" sticker.
Police told them they are free to stroll along the beach but they will not tolerate the handing out of stickers.
Anurak vowed to carry on his Sunday campaign until the promised referendum on August 7. He said even if the National Council for Peace and Order, the formal name of the junta, summoned him for re-education camp he won't change his mind.
"I'll just come out and campaign again."said Anurak.
Related stories:
Charter Draft Second Look: Full Education No Longer Guaranteed (Analysis)
Charter Opponent Unbowed by Alleged Harassment
Anti-Charter Campaigner Reports 'Polite' Visit by Soldiers
Protesting With Precision, Anurak Jeantawanich Walks a Tight Legal Path