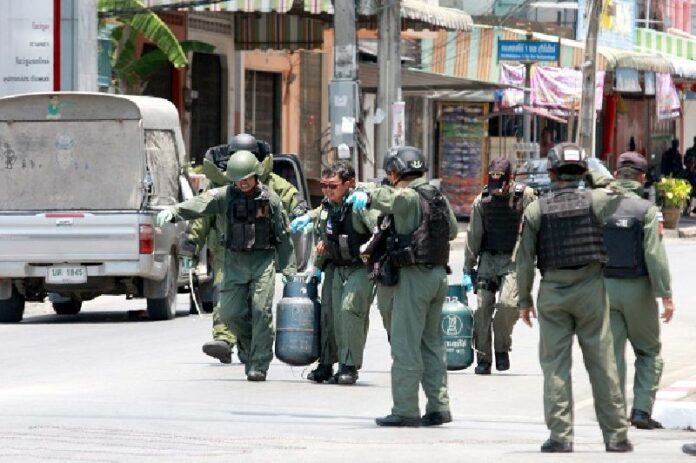 YALA — Sunan Thongnet was driving back home after shopping in the morning market with his wife Renu Jitban early this morning in Yala's Bannang Sata district when they were stopped by a group of uniformed men they thought were authorities.
The men, numbering seven or eight, put bags over their heads and separated the couple. Their abductors' horrible intent soon became clear when they loaded their truck with two tanks of explosive gas weighing upward of 200 kilograms.
About an hour later, they took 61-year-old Renu hostage and forced Sunan, 53, to put on an explosive vest and drive the vehicle into downtown Yala city. Sunan was told if he drove in another direction or went to the police, his wife would be killed and his vest detonated, according to police Maj. Gen. Atchariya Atchariyapradit.
Driving where he was instructed, Sunan parked the truck in front of a Toyota showroom. Despite his wife's peril, he managed to work himself free of the vest. Getting out of the truck, he then ran toward crowds of people in the area shouting that the truck was rigged to explode.
"Police did not believe him at first when he ran to the police and said there were bombs in the truck," Atchariya said. "But when we found the tanks covered by a mat on the truck, like he said, we moved people out of a 2-kilometer area and cut off radio and phone signals."
A police bomb unit arrived two hours later to dispose of the improvised explosive device, which was loaded in the two gas tanks and connected to a radio-triggered detonator.
And while Sunan thought Renu was in jeopardy, his wife had in fact earlier been left at the side of a road at about 2pm on Tuesday. She was unharmed.
Police believe southern separatists were behind the plot and said they are reviewing security footage to find if anyone was following Sunan in his truck, as he believes.
They are also working with military and government officers in their investigation.
A bomb tech works to remove large explosive devices from a pickup truck Tuesday in Yala city.
Related stories:
Govt Investigates Reports of ISIS in Deep South
22 Arrested Over Yala Bombing Spree
Motorists Shot Dead, Burned By Suspected Insurgents in Yala