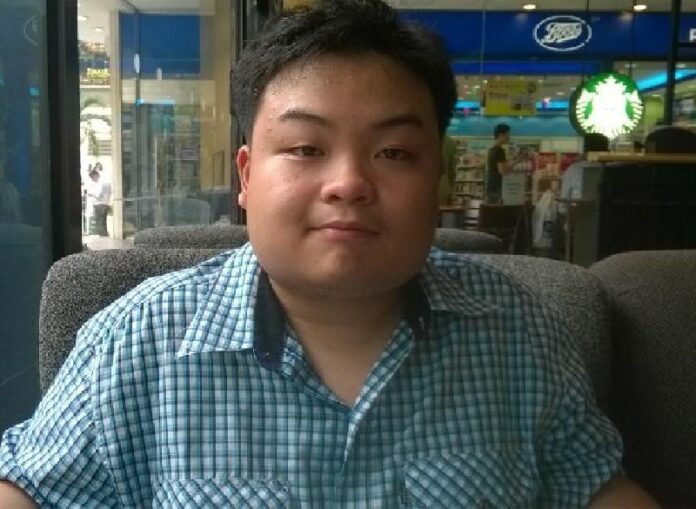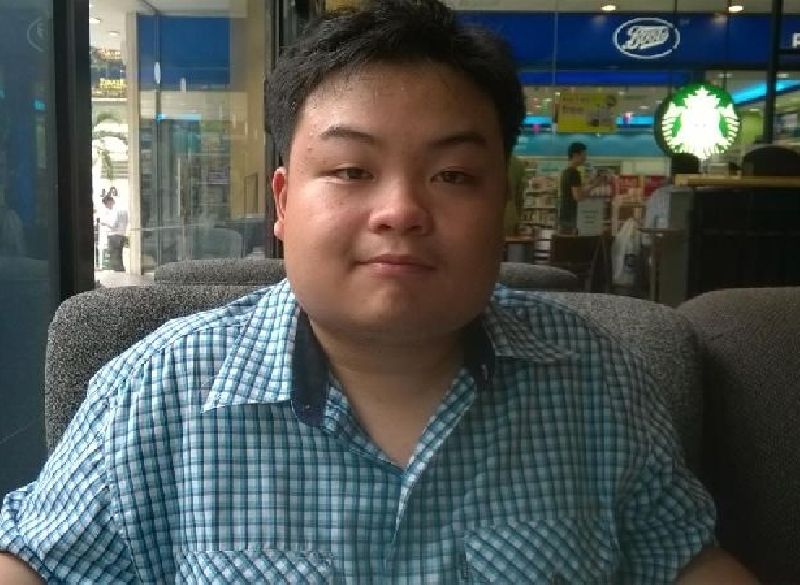 By Pravit Rojanaphruk
Senior Staff Writer
BANGKOK — No one is manipulating or funding high school students who protest against the abolition of state funding for full high school education under the junta-sponsored draft charter, said Parit Chiwarak, a student leader who led a protest on Tuesday.
"I didn't take anyone's money to protest," insisted 17-year-old Parit Chiwarak, secretary general of a group made up of around 50 high school student activists who call themselves Education for the Liberation of Siam.
---
Student Protesters Crash Speech of Head Charter Drafter
---
Parit, who is perhaps better known by his nickname "Penguin" told Khaosod English today that money for activities is raised through the selling of T-shirts, books and also by accepting small donations.
"There's nobody behind us except those providing moral support. It doesn't make sense that we would risk our future for loose change. It's not worth it," said Parit who will enter the Twelfth Grade later this year, known as Mathayom 6 in Thailand, at Triam Udom Suksa school. The prestigious school is currently funded by the state but the situation will change if the new draft charter is endorsed in the August 7 referendum.
University staff seize a banner from student activists protesting against the head of the junta-appointed charter drafting committee Tuesday at Thammasat University's Rangsit campus. Photo: Matichon
Article 54 of the charter cuts mandatory funding for the last three years of secondary education.
Parit today denied receiving money or support after junta-leader-cum-Prime-Minister Prayuth Chan-ocha said the military government would look into the groups who staged the protests on Tuesday at Thammasat University. Three groups of students protested while junta-sponsored charter drafting committee chairman Meechai Ruchupan was speaking on the occasion of a memorial day for former Prime Minister Sanya Dharmasakti. Prayuth suspects some politicians may be backing the youths.
Parit and two friends unfurled a banner reading "Don't hurt the youth" and began reading their statement calling for the reinstatement of free education through Grade 12 before he and his friends were escorted out of the hall by university staff.
Parit said the choice is clear, if voters want to see the continuation of state-funded education up to Mathayom 6, they will have to reject the charter draft in the referendum. The teenager added that full state-funded high school education is a right for all Thais to enjoy and not something people should beg for from the state.
While Meechai said a fund will be set up to ensure that poor students can access the necessary money to complete high school education, Parit said such a scheme, even if successful, would discriminate against students from low-income families as they would be marked as being underprivileged.
---
Charter Opponent Unbowed by Alleged Harassment
---
Parit said many poor students are now at risk of not being able to complete their high school or vocational school education as a result of the charter drafting committee misunderstanding the real cost of funding three years of senior high school education, known in Thai as Mathayom 4 to 6, which is relatively modest.
"The charter drafting committee doesn't understand that it's the duty of the state to provide education and improve the lives of people."
Parit said if there's not enough money, it's the duty of the state to find the money or re-allocate the budget from other less-necessary expenditures. He and his friends are now trying to come up with stats comparing the modest budget required for funding three-years of senior high school education for all and the money the state splurges on other ministries, including the purchase of arms.
Some have speculated that the decision not to fund the last three years of high school education under the new charter draft might be the desire of the junta, who appointed all the charter drafters, to create less-educated and more governable citizens.
Parit said there's no way to ascertain that for sure although it's a frightening prospect.
"It's possible but I can't confirm it. If this is the real rationale behind, it means the attitude of the charter drafting committee is scary and they must be a long-term threat [to society]."
Related stories:
Junta Bans Bookstore Talk on Draft Charter
NDM Launches Campaign to Reject Charter at Crowded Book Fair
Junta Threatens to Summon Critics of Charter Draft