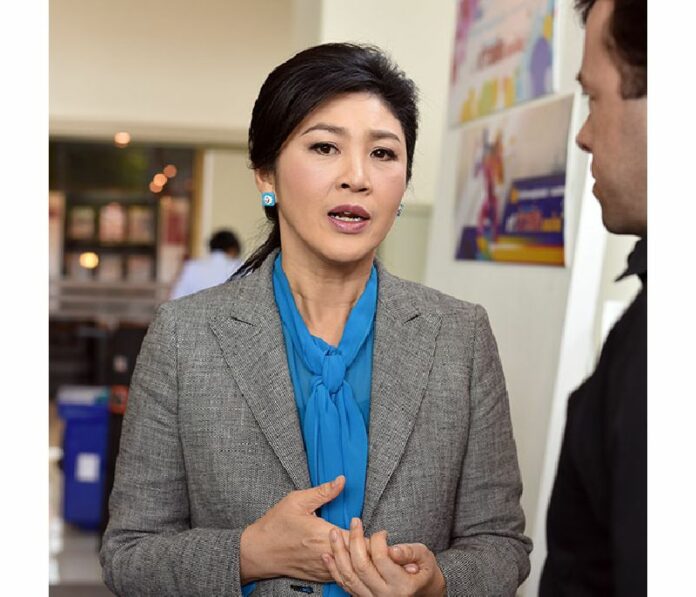 BANGKOK — Former Prime Minister Yingluck Shinawatra was among the well-wishers who turned out to celebrate Khaosod newspaper's 25th anniversary, during which she agreed to a brief chat with Khaosod English.
Yingluck was among hundreds of representatives from the public and private sectors who turned out to mark the occasion, including members of the armed forces and junta spokesman Col. Winthai Suvaree, who attended on behalf of Prime Minister Prayuth Chan-ocha.
Since the government she led was deposed in the 2014 coup, Yingluck remains under close scrutiny by the military government and is being tried on corruption charges stemming from her government's rice subsidy. Under those constraints, she said that she could would have to "cool down" any questions on matters related to politics.
We streamed the brief interview live over Facebook, but unprepared with a proper microphone, the audio quality was poor. Following is a partial transcript of her exchange with Khaosod English editor Todd Ruiz.
Khaosod English: Tell me, you have not been in politics for some time, but you've watched, you read, you pay attention. What do you think are the challenges in Thailand's near future?
Yingluck Shinawatra: The challenge of Thailand in the near future is, I think, now it's time for Thailand to keep moving forward into the referendum on the constitution. We hope this time it will be free and fair for everyone to understand both sides of the content and then to consider based on the future of Thailand.
So I hope during this time, hope the charter tries to create an environment to be peaceful and fair, and freedom for everyone to express their thoughts along the way and try to compromise to find the solutions in the future
KE: Do you see a future where you're back in politics?
YS: No, I just think about the current situation would be better because as you know now I have been banned. So we think that in whatever, wherever position, I will be with Thai people. So I think this is best to think about now. Whatever I can help the country … it doesn't mean I only have to be politician.
KE: Will you take a position on the draft charter? Yes or no?
YS: I think we just say this time we talk about Songkran, it's better. (laughs) Now so your anniversary will be the same as Songkran. So we will have to say as in Thai, 'Happy Songkran Anniversary. Happiness, prosperity, also all the peacefulness.

Junta spokesman Col. Winthai Suvaree, uniformed at left, visits Khaosod offices Friday in Bangkok