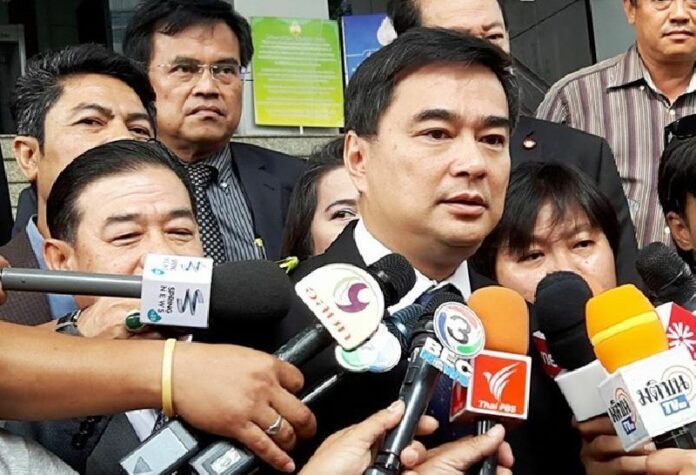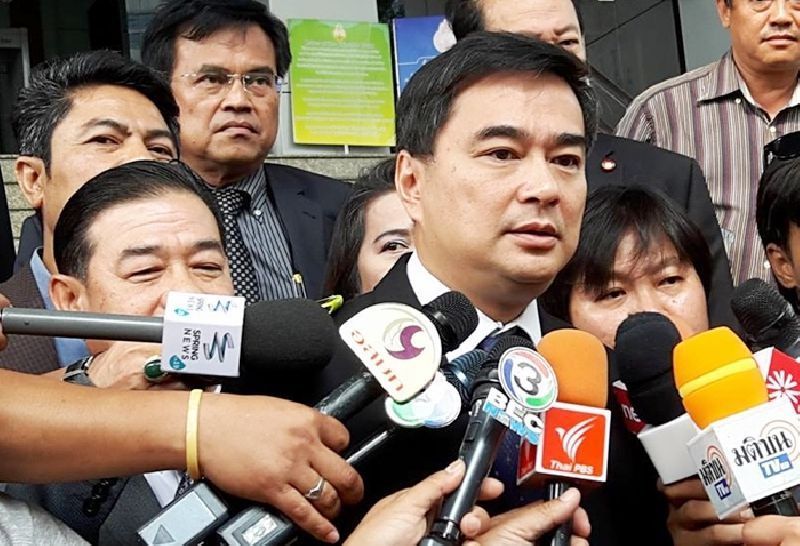 By Pravit Rojanaphruk
Senior Staff Writer
BANGKOK — Some opponents to the junta-sponsored draft charter want the Democrat Party to clearly state whether the party plans to endorse or reject the charter draft.
The calls come after Democrat Party leader Abhisit Vejjajiva held a press conference on Sunday to say the draft charter would bring about a retreat in democracy. However, Abhisit stopped short of committing whether he and the party would resolve to vote to reject the charter draft during the referendum on August 7 or not.
"It's not clear whether the party will reject it or not," said Sirawith Seritiwat, aka Ja New, a key member of New Democracy Movement who is campaigning against the charter draft. "This could lead to their supporters becoming confused."
Weng Tojirakarn, a former Pheu Thai MP and Redshirt co-leader, accused Abhisit and the party of being insincere as one week before Abhisit spoke, Juti Krairiksh, secretary general of the Democrat Party said on April 2 that he accepted the charter draft. Juti added that those who don't should not become politicians.
"This a like a soap opera fooling Thailand. It's ridiculous. The party's secretary general said those who do not accept this charter draft should not become politicians. To put it politely, Abhisit was very careful in expressing his views. In layman's term, he wasn't being insincere and sneaky, however. When reporters asked if this means Abhisit will reject the charter draft, he refuses to commit himself. Well, if one is against gambling then one should not gamble, should they?"
Sirote Klampaiboon an independent political scientist who opposes of the charter draft, thinks Abhisit has already committed himself on Sunday beyond reproach.
"I don't think it was an attempt not to commit [himself]. Saying he disagrees with the charter draft should be a clear enough [statement]," said Sirote. "Eventually this will lead the party into rejecting the draft."
Asked if he thinks Abhisit and the party could still do a U-turn and eventually endorse the controversial draft charter, Sirote said "it's going to be difficult".

Related stories:
Student Leader: No One Paid Me to Oppose Draft Charter
Junta Bans Bookstore Talk on Draft Charter
Charter Draft Second Look: Full Education No Longer Guaranteed (Analysis)
Charter Draft First Look: When Will the Junta be Really Gone? (Analysis)
Final Draft of Charter Out, Critics Resolute on Rejection
Public Can Register for Right to Speak Out on Draft Charter