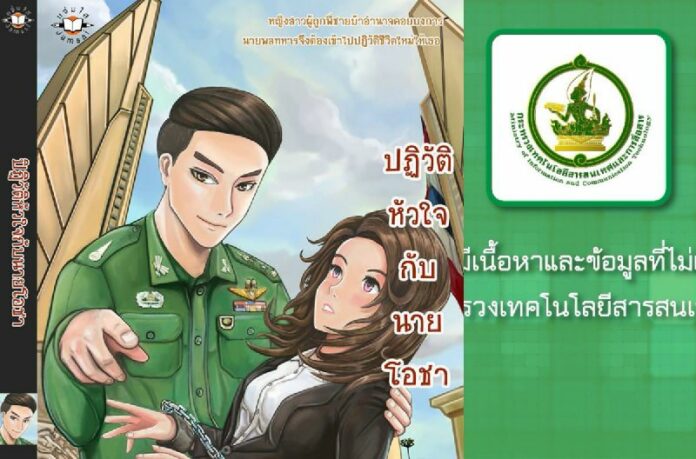 BANGKOK — A book cover submitted to a design competition was blocked on Monday after appearing to mimic Prime Minister Gen. Prayuth Chan-ocha and ex-Prime Minister Yingluck Shinawatra.
"A Coup of the Heart with Mr. Ocha" was submitted to compete for the best book cover in the Jamsai Fanart competition by Wachirapan Chuesaard, an admin for the Facebook page Hoidok on Sunday.
The drawing depicts a military man with his arm around a woman whose wrists are shackled together while the background appears to depict Democracy Monument in Bangkok.
The cover displayed on comic community Ookbeecomics remains available online. However, clicking on the cover today leads to a message from the Ministry of Information and Communications Technology saying that the link is blocked.
"A girl was controlled by her megalomaniac brother, so the general has to step in and revolutionize her life," reads the tease on the book jacket.
With a plot featuring an army hero named Ocha and a heroine called Proo, some could be reminded of the junta chief's last name and former Prime Minister Yingluck's nickname, "Poo" (crab).
"Ocha, a hot-tempered general is ordered to keep his eyes on a girl with a pretty, pimple-free face called Proo, whose mind is controlled by her brother. Their family are billionaires. Proo is depressed because her brother keeps bossing her around to be the leader of the country. Ocha investigates the story and has to [save the situation]," states the synopsis on the Facebook page Hoidok.
The fanart page explained that the cover was inspired by a soap opera "Kiattiyot Kabot Rak" (Honor, Love Rebel) which was broadcast on Channel 3 in 1999. The story centers around two soldiers who are enemies competing both at work and for the heart of the same woman.
"I was in shock [when I learned that the website was blocked,]" Wachirapan, the creator of the drawing told Khaosod English Monday evening. "I guess my artwork won't be eligible for the competition because it violated the criteria that artwork should not involve any institutions, politics or religion."
The additional criteria was posted online Sunday after Wachirapan posted his work to the public.
At the time of publication "A Coup of the Heart with Mr. Ocha" has received the most votes on the website.
Organized by Jamsai, a company known for publishing romantic fiction aimed at teenagers, Jamsai Fanart competition was open to submission from March 10 until yesterday, April 10. The three winners announced on April 22 will receive 10,000 baht, 8,000 baht and 5,000 baht respectively.
Related stories:
Libel Unclear in 'Illegal' Video Mocking Prayuth
Man Arrested for Sharing Video Mocking Prayuth