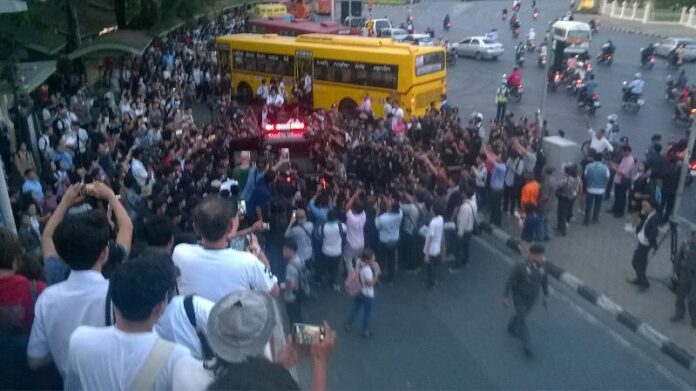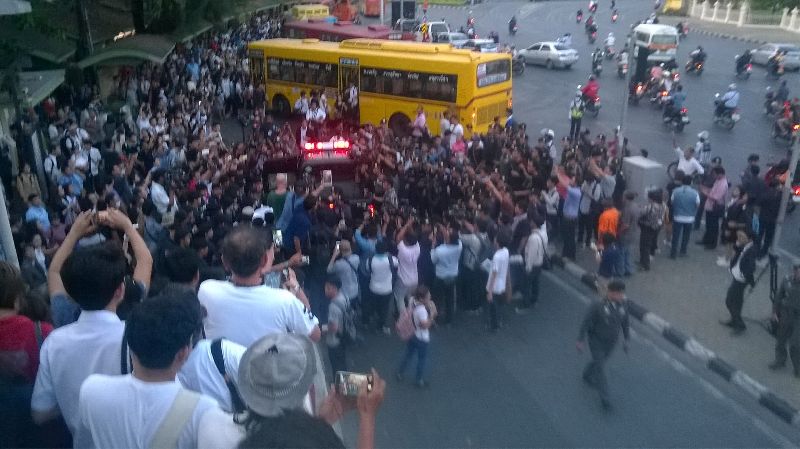 By Todd Ruiz and Pravit Rojanaphruk
BANGKOK – Security forces surgically removed several activist leaders gathered at Victory Monument this evening, effectively nipping a planned protest in the bud.
Protesters, many wearing white T-shirts, had melded into the busy crowd of rush-hour commuters Tuesday but were apparently left without a clear plan of action after at least four organizers were whisked away by police.
Siriwith Seritiwat of the New Democracy Movement, Arnon Nampa of Resistant Citizen, Aramis Akahad and Wannakit Chusuwan were smiling and waving as they were taken away in a police truck.
---
Hear from the protesters and see the activists taken away in three live broadcasts we made from the scene here, here and here.
---
Raising three-fingers in a salute associated with defiance to the military regime, several dozen protesters shouted "Free Watana" until they were cleared out by crowd control officers, who numbered in the hundreds, with numerous police vehicles waiting nearby. No uniformed military personnel were visible.
There were no reports of injuries or further incidents, while some protesters went on to hold a candlelight vigil outside the Phaya Thai Police Station where those arrested were believed taken.
What was the largest demonstration since May 2015 – the first anniversary of the coup – was called Tuesday morning to protest the ongoing detention of former Pheu Thai Party MP Watana Muangsook.
Frustration was an oft-cited motivation by those who chose to attend.
Paisarn Janparn, who has driven a taxi for 30 years in Bangkok since moving from his native Khon Kaen, said he was not afraid of facing arrest.
"I don't expect anything from this government. But we want our rights, liberties and justice. We're not going to let the country regress more than it already has. It's been nearly two years now and it was such a waste of time for the country."
A 45-year-old office worker identifying herself only as "Nuuk Hatyai" said she was among those feeling frustrated.
"I had to come here to show that people are not satisfied about the situation. Our feelings have been building up," she said. "It's not just about Watana, it's about every Thai."
A man identifying himself as a singer and Redshirt from Nakhon Si Thammarat said a lot of frustrations were being vented, but he didn't expect the time had come to overthrow the junta.
"I've been feeling uncomfortable with the repression for a long time now," said the man using the name Alek RSiam. "Being here isn't just about Watana, but also the right to vote no against the draft charter."
Watana turned himself into the junta Monday after he was summoned over stating his opposition to the proposed charter.
Related stories:
Activists Promise Protest if Watana Not Released by Military
Todd Ruiz can be reached at [email protected].
Follow Khaosod English on Facebook and Twitter for news, politics and more from Thailand. To reach Khaosod English about this article or another matter, please contact us by e-mail at [email protected].