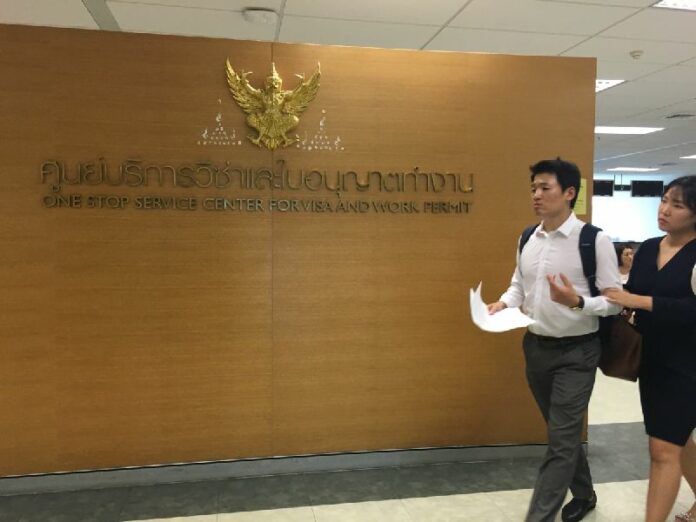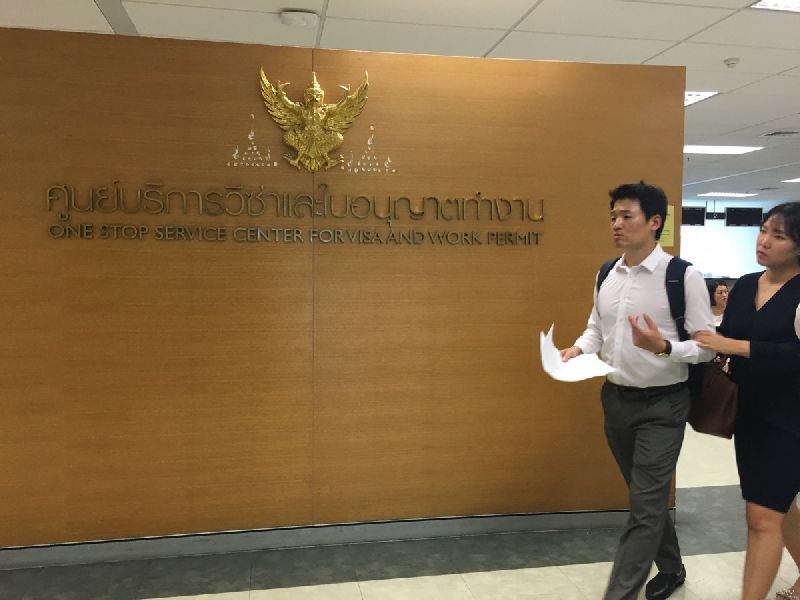 BANGKOK — Sebastien edged up to the counter and handed the form to the immigration officer. A few breaths later, it was accepted despite a lot of unanswered questions.
In recent days alarm has been raised over a new immigration form asking foreigners to provide the government with their bank details and where they hang out online and offline.
An immigration officer working at the building where the document is currently in circulation said Tuesday it is not mandatory to answer every question.
"We definitely need them to fill in as much information as they can," said the Immigration Bureau's Phurita Ruangpankaew at the One-Stop Service Center for Visa and Work Permit located inside Chamchuri Square Building. "But if they don't want to fill in a space, then [they can] put a dash in the blank space."
Sebastien, a French national who has been living in the kingdom for 10 years, said this was the first time that he was asked to provide this kind of personal information.
"It's useless,"said the French national. "Why do they need to know my social media account, my bank account or my parent's names?"
He didn't complete the form.
"I didn't fill anything and here it is," he said, showing the permission for an extended stay he had just been granted.
But there seem to be mixed messages regarding the controversial form which went into effect April 4.
An agent working for a company who helps process work permit applications for foreigners said he has instructed more than 10 of his clients to fill in every detail on the form.
"They all came here to work. I do think it is weird to ask about information such as their parents' names," Sedtawut Kijraksa said. "It might be an effect from the fear of terrorism."
Sedtawut said he never asked the officers whether it was necessary for his clients to answer all questions.

Foreigners hand in the new forms Tuesday afternoon at One Stop service Center for Visa and Work Permit in Chamchuri Square
Steve Herman, Voice of America's Southeast Asia bureau chief, said a member of his staff was told by an officer at the same service center Tuesday morning that 90-day reports would not be processed until the new form was completed and filed.
Foreign nationals residing in Thailand on valid work permits must update the Immigration Bureau on their status every three months.
Comments online have been unsparing, ranging from the befuddled to the bemused.
Facebook user Andreas Holmer, commenting yesterday on a Khaosod English article, claimed that he left most questions on the new form unanswered and encountered no problems at immigration last week.
"I did hear however that when this form was introduced a few weeks back, the officers would actually refuse to see you unless you completed the form," Holmer wrote. "They soon had to ease up on those restrictions."
A human resource officer from a company called Raja Ochano, who would only identify herself as Hong, said she discovered the new form today. She said she needed to return to her office to discuss with a foreign staff member there how comfortable he is with filling it out.
"I asked the officer," she said. "But you know, they don't really explain much."
While the form was a concern for some expats, a Bangladeshi man who has been working in Thailand for two years said he has no problem with it.
"It helps to get more information," Muhbul Hasan said. "It will benefit both us and the government."
Chatchawan Wachirapaneekhun, the Immigration Bureau deputy commissioner who designed the form said Monday that it would help solve problems, such as the difficulty in tracking down foreigners who commit a crime. He insisted providing the information was not mandatory.
"We want to collect as much information as we can. And it actually increases the work for the Immigration Bureau," police Maj. Gen. Chatchawan said. "But it will benefit the country."
Related stories:
Thai Immigration Asks Foreigners for Bank Accounts, Social Media, Hangouts