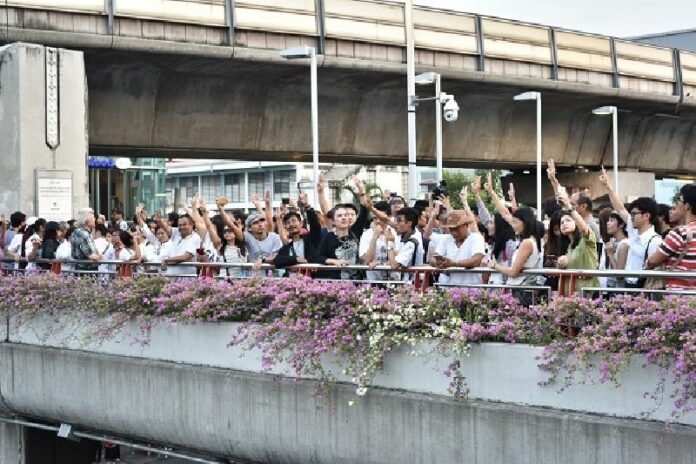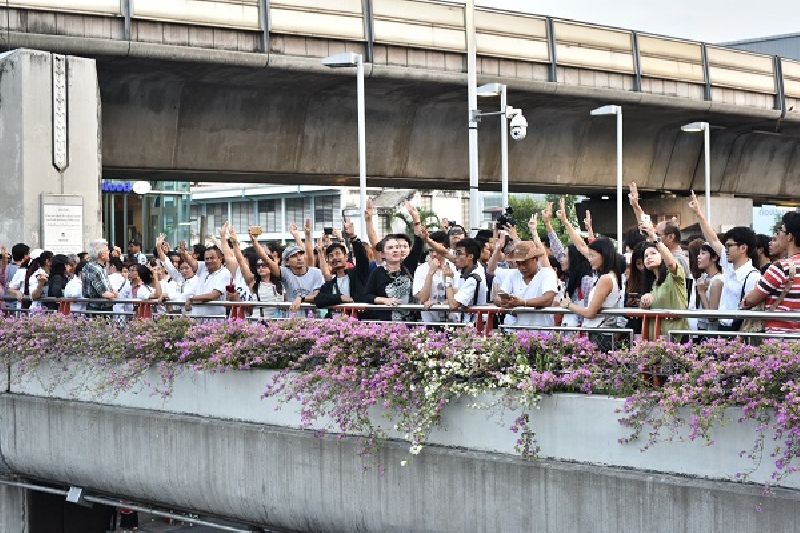 By Teeranai Charuvastra and Pravit Rojanaphruk
BANGKOK — They came for the reporters and political cartoonists, and hands were wrung.
Then they came for the academics, and a storm of statements were issued. They arrested an old man for giving flowers, went after student activists for eating sandwiches, detained environmental activists opposing their projects, and still, little happened.
It wasn't until they came for a wealthy, privileged and well-connected luminary of the Pheu Thai Party that calls of action went out for people to take to the streets. And those daily protests called against the junta, aka the National Council for Peace and Order? Called off the moment Watana Muangsook was granted bail late Thursday afternoon.
Pavin Chachavalpongpun, an outspoken academic living in exile, said Pheu Thai Party only looks out for its own, driven by a cynical calculation that defending ordinary citizens persecuted by the junta just isn't worth it.
"Pheu Thai Party has never shown leadership in resisting the NCPO," said Pavin, who's lived in Japan since before the coup, when he defied a junta order to appear. "When the little people are in trouble, they don't come out at all, because they already calculated that it's not worth it."
---
Prayuth Names Thaksin as Plotter Behind Protests
---
He said the past week's protests for Watana, who married into Thailand's wealthiest Forbes-listed family, show the party prefers instigation over participation.
"During the white-shirt protest, no one from Pheu Thai joined. You [Pheu Thai] are only sitting in a tower, you only talk and talk, but you don't do a single damn thing. You just make other people do the work on your behalf."
Few party members were at the protests, Pheu Thai's Chaturon Chaisaeng said, because the party was not behind the campaign.
The former education minister – who has his own conflicts with the military regime – denied the party orchestrated the demonstrations calling for Watana's release, saying Pheu Thai didn't place particular importance on his case.
And when regular citizens are persecuted, he said Pheu Thai has shown support.
"The party has issued statements several times in the past when those who think differently from the junta have been harassed. The demonstrations weren't desired on the part of the party. Many activists and academics came out, not because it's about the party, but because a right to free expression is important, particularly now that we're heading toward the [draft charter] referendum."
Chaturon admitted that Watana's status played a part in the response. He believes that seeing a former cabinet member subjected to such treatment may make the public concerned others will be prevented from speaking out. Anyone suffering repression, he added, should receive attention and support, no matter who they are.


Watana Muangsook, a member of the Pheu Thai Party, in detention Wednesday at a military base west of Bangkok in Kanchanaburi province. Photo: Courtesy National Council for Peace and Order
Leading or Following?
A veteran labor activist said Pheu Thai's record shows it only supports VIPs such as Watana, former Prime Minister Yingluck Shinawatra and Redshirt leaders.
"They are an old-fashioned political party," said Jittra Cotchadet, who's facing a military trial for failing to report to a junta summon quickly enough. "Their owner isn't the people, so they only do things their owner wants them to."
Arnon Nampa, one of the protest organizers, denied there was any double-standard at work. He said his group, Resistant Citizen, did not protest when well-known Redshirts such as Jatuporn Promphan were summoned by the junta.
When private citizens are charged, he said that, as a human rights lawyer, he often tries to post bail for them. It was the junta's inflexibility over allowing people to express opposition to the draft charter that made Watana's case the tipping point.
"The case of Watana was played up because the junta wouldn't compromise," he said.
Asked if any demonstrators were paid by the Pheu Thai party to show up, Arnon insisted the allegation is baseless, and people came out of their own voluntary will.
Since the advent of the Redshirt movement following the coup removing Pheu Thai's de facto leader Thaksin Shinawatra, critics have accused both party and movement of manufacturing mobs: literally paying people to assemble and make noise to serve its ends.
But that trope plays on the condescending stereotype of its supporters as insert-coin-here automatons devoid of principle. The party enjoys the diffuse organization it can leverage because of its grassroots appeal, and those who answer its calls to action tend do so earnestly.
Three protesters interviewed at Bangkok's Victory Monument on Tuesday – the first day of protest – cited a growing list of frustrations that brought them out, of which Watana was only the most recent – and not the most important. They were ready to answer the call well before it started spreading Tuesday through Facebook on the occasion of Watana's detention.
"I had to come here to show that people are not satisfied about the situation. Our feelings have been building up. It's not just about Watana, it's about every Thai," said a 45-year-old office worker who declined to give her name and identified herself as Nuuk Hatyai.
Myopic Mahanakorn
Why do the rights of some appear more precious than those of others? Geography is a factor, as is the capital's concentration of cultural and political elites.
Panupong Sritananuwat, a 21-year-old member of the Khon Kaen-based Dao Din group of student activists, said the media overlooks those struggling against the military regime outside the capital.
"We're far, and we are not well-known. Protests in the rural areas tend to be more about their livelihoods and natural resources," said Panupong, who lives in the northeastern province of Surin.
He cited 100 households in northeastern Buriram province forcibly evicted by the military soon after the 2014 coup. Only 10 to 15 households remain, he said, and Dao Din has exhausted all channels fighting to protect their rights, a struggle all but unreported by Bangkok-based news organizations.
Rangsiman Rome, a leader of the pro-democracy New Democracy Movement and Thammasat University student, agreed that injustices out of sight often means out of mind in the capital.
"When human rights are being violated in the northeast, there isn't much interest, unlike in cases such as Watana," he said.
Opposition: Cost or Opportunity Lost?
Pavin said he's disappointed by Pheu Thai's reluctance to take a more proactive role in opposing the junta.
"Frankly speaking, I feel disappointed," Pavin said over telephone. "When they were in government, they made a lot of mistakes. This is a golden opportunity for them to show their sincerity and commitment to democracy. Yes, there's risk, but to expect political gain without doing anything like this is unacceptable."
Instead he believes the party is biding its time. Confident in its electoral fortunes once democracy is restored, it may see nothing to gain by taking a more active opposition role.
On the other hand, activist Jittra said she didn't expect anything from Pheu Thai in the first place.
"When they were in power, they didn't do anything to defend democracy or improve rights of the people either," she said.
Suriyasai Katasila, a former coordinator of the anti-Thaksin People's Alliance for Democracy said pro-democracy groups stand to lose by aligning with Watana.
"It's a waste. They ended up just making partisan drama, and there will be less trust of them," he said.
Even worse, the junta may benefit by the distraction from issues such as allegations of nepotism in the appointment of Prayuth's nephew to the army, Suriyasai said.
Additional reporting Sasiwan Mokkhasen
Related stories:
Protests Called Off as Watana Released on Bail
Daily Protests Planned Until Watana Released
Frustration Boils Over at Rare, Brief Protest
Activists Promise Protest if Watana Not Released by Military
Watana Defiant as He Turns Himself in at Army Base
Teeranai Charuvastra can be reached at [email protected] and @Teeranai_C.
Follow Khaosod English on Facebook and Twitter for news, politics and more from Thailand. To reach Khaosod English about this article or another matter, please contact us by e-mail at [email protected].