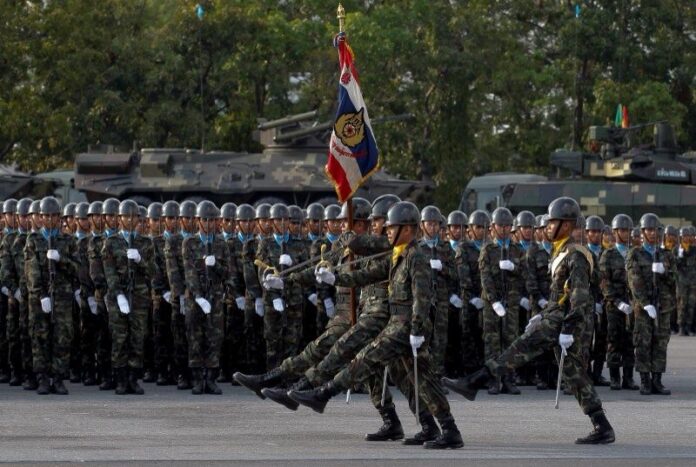 By Amy Sawitta Lefevre
Reuters
BANGKOK —The top U.N. human rights official called on Thailand on Friday to suspend "dangerously sweeping" powers handed to the military and he encouraged dialogue on a draft constitution the military hopes will win approval in an August referendum.
The military has ruled since a May 2014 coup and has banned political gatherings, censored media and tried dissenters in military courts.
Junta chief Prayuth Chan-ocha has stressed the need to restore political stability after year of fractious and at times violent politics and he has promised to hold an election in mid-2017.
Last month, the junta gave soldiers powers of arrest and detention, including the authority to seize assets and search premises, a move rights groups say would only help strengthen the crackdown on critics.
U.N. High Commissioner for Human Rights Zeid Ra'ad Al Hussein said in a statement extending the military's powers was not the answer to "rebuilding Thailand's political landscape".
"I call on the government to suspend application of these dangerously sweeping laws and orders that have bestowed more power upon the military," Zeid said.
The U.S. State Department issued a similar call this month, urging the government to limit the role of the military in internal policing.
The military has overseen the drafting of a constitution to replace one it discarded after seizing power but critics, including major political parties, say it will enshrine the military's influence and is unlikely to end political strife.
The government said this week campaigns, either for or against the draft, would not be allowed in the run-up to the referendum on Aug. 7.
A minister in a former government led by populist premier Thaksin Shinawatra was taken into military custody on Monday over criticism of the constitution he posted on Facebook.
Zeid said debate on the charter should be encouraged: "I urge the government to actively encourage, rather than discourage, dialogue and engagement in the draft constitution."
Rivalry between the former telecommunications tycoon-turned-prime minister, Thaksin, and the military-dominated establishment has been at the heart of Thailand's decade of tumultuous politics.
Thaksin was ousted in a 2006 coup and lives in self-exile to avoid a jail sentence for a graft conviction that he says was politically motivated.
To reach us about this article or another matter, please contact us by e-mail at: [email protected].