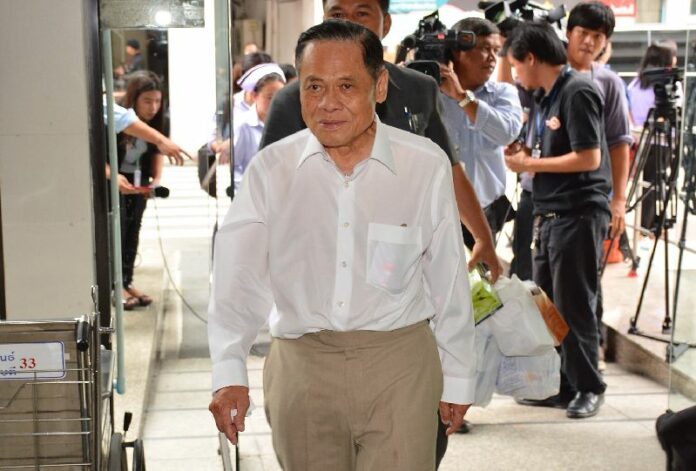 BANGKOK — Former Prime Minister Banharn Silpa-archa has died at 83, Siriraj Hospital announced Saturday morning.
After being admitted on Thursday for an asthma attack, Banharn spent several days in intensive care before he passed away at 4:42am on Saturday.
His funeral will be held at Wat Thepsirin this afternoon.
Banharn was born was on Aug. 19, 1932, to a Chinese merchant family family in Suphanburi province. He later founded his own construction company.
The businessmen-turned-politician first served as a MP for his home province of Suphanburi in 1976. Banharn held different positions in several cabinets until he led his party Chart Thai (Thai Nation) to win the 1995 election and became the 21st prime minister of Thailand.
His premiership came to an end in 1996 when his party became involved in a corruption scandal and parliament was dissolved.
The 1997 constitution, regarded as the most participatory, was drafted during Banharn's premiership.
Banharn was known for his role in developing Suphanburi province. His influence in his home province led people to call it "Banharn-Buri." The province boasts the tallest tower in Thailand, Banharn-Jamsai Tower, named after Banharn and his wife.
Banharn is survived by his wife, Khunying Jamsai Silpa-archa, 82, and three children.
Related stories:
Thanat Khoman, Former Foreign Minister, 101
Sasiwan Mokkhasen can be reached at [email protected] and @amsasiwan.
Follow Khaosod English on Facebook and Twitter for news, politics and more from Thailand. To reach Khaosod English about this article or another matter, please contact us by e-mail at [email protected].