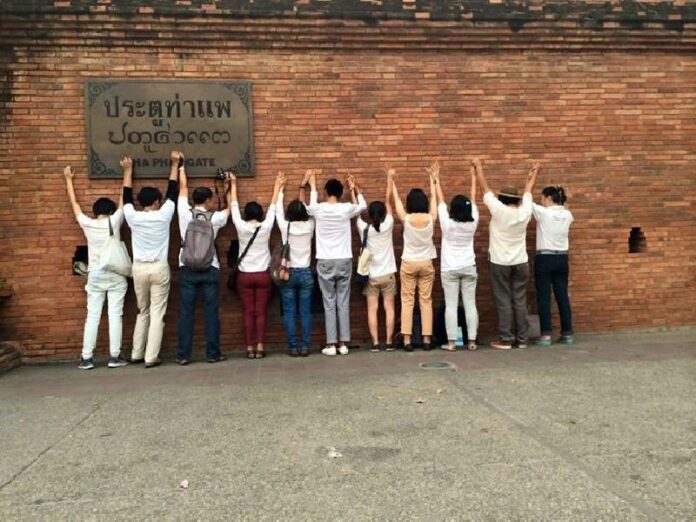 By Pravit Rojanaphruk
Senior Staff Writer
BANGKOK — As dozens gathered in protest at Bangkok's Victory Monument on Wednesday to denounce the junta's arrest of its online critics, where 16 were taken into custody, little attention was paid to small, symbolic demonstrations held in at least three other provinces.
In response to the abduction of 10 people from their homes by soldiers, symbolic protests flared up in Chiang Mai, Khon Kaen and Nakhon Pathom provinces. But while the national media paid close attention to what went down in Bangkok, they mostly ignored what played out in the provinces.
---
Army Abductions: Activists Call for More Protests Despite Arrests
---
Yet in Chiang Mai, a university lecturer said they don't care that action there went little noticed by Bangkok-based news outlets. That wasn't the point.
"We posted [the photos], and many Chiang Mai people shared them pretty widely," said associate anthropology professor Pinkaew Luangaramsri. She said the mainstream media has chosen its side and is no longer relevant to rights activists and those opposing military rule.
"They can go on praising the government, but most people who want to read real news no longer read the mainstream, mass media," she said. "They get it on social media."
And by social media, that overwhelmingly means Facebook, where an untold number of groups disseminate information critical of the military government. At least two of the 10 taken by soldiers early Wednesday morning operated official Facebook pages of the Redshirt movement.
No arrests were made Wednesday evening in Chiang Mai, Khon Kaen or Nakhon Pathom. That's because protests there involved small groups which gathered only for moments.
"We normally can't hold such activities in Chiang Mai. We only had a few protesters because we didn't tell the wider circle about it," Pinkaew said of the action involving 15 academics, students and activists who staged a flash mob at Chiang Mai's Tha Phae Gate, one of the northern city's most visible landmarks.

Protesters gather briefly Wednesday evening in front of Khon Kaen University. Photo: Pai Jatupat / Facebook

In Khon Kaen, about 10 people, mostly activists, gathered in front of Khon Kaen University to give a "thumbs-down" to the junta. Meanwhile a group of Silpakorn University students covered their mouths west of Bangkok at the university's Tab Kaew Campus.
In Khon Kaen, university student Panupong Sritananuwat was among the protesting group, mostly drawn from the Dao Din community rights group and New Democracy Movement.
Panupong said it was quietly organized under the radar in order to evade intervention or arrest.
"We didn't publicize it beforehand," the 21-year-old said. "The group stood there and pictures were taken. Big media didn't report it."
The fact they were not arrested, he said, isn't because they enjoy more political freedom than protesters in Bangkok, but because they kept it secret.
Sixteen people were detained to disrupt the protest called at the capital's Victory Monument earlier in the day by Arnon Nampa, a human rights lawyer and a leader of the Resistant Citizen group. Arnon was charged under the junta's 2014 Public Assembly Act for organizing a protest without notifying authorities 24 hours in advance. All were freed except for a man named Burin Intin, who Arnon said was taken away by soldiers.

Silpakorn University students protest Wednesday at the university's Tab Kaew Campus in Nakhon Pathom province. Photo: Anan Lohspattanabamrung / Facebook

In Bangkok, a leader of the New Democracy Movement said protesters in the provinces now favor spreading information through social media and bypassing the Bangkok-centric mass media, which tends to underreport or ignore things in the provinces.
"It shows that not only us in Bangkok are disturbed by what's happening. But we don't see more protests in the province because they're suppressed," Rangsiman Rome said. "They're coming out nonetheless. The way the arrests took place was horrible. [Soldiers] simply broke into homes and not a single arrest warrant was produced. Without their uniforms, they would be no different from criminals."
Pinkaew, the Chiang Mai professor, acknowledged however that it won't be easy for them to get away with anything announced in advance.
Gatherings of more than four people for any purpose which might be perceived as "political" have been banned by the military regime since it seized power in May 2014.
And it won't be easy for protesters to do the same thing twice, said Chiang Mai-based Pipob Udomittipong, an influential online critic of the National Council for Peace and Order, as the junta calls itself.
They'd have a hard time pulling off another flash mob at Tha Phae again, he said, because now there are probably police vans waiting for them.
The opposition Redshirt movement which backed the former civilian government enjoys wide support in the north and particularly Chiang Mai, the home province of the Shinawatra family, which produced two prime ministers whose governments were toppled by the military.
A climate of fear is palpable in the north, Pipob said, saying that the military can just drop by at any time and whisk people from their homes.
Bangkok aside, he said not even local media in Chiang Mai seem interested in human rights issues.
Related stories:
Protest Called for 10 Abducted by Military
Anti-Junta Protest in Khon Kaen, Despite Prayuth's Warnings
Khon Kaen Student Activists Deny Being Paid To Protest