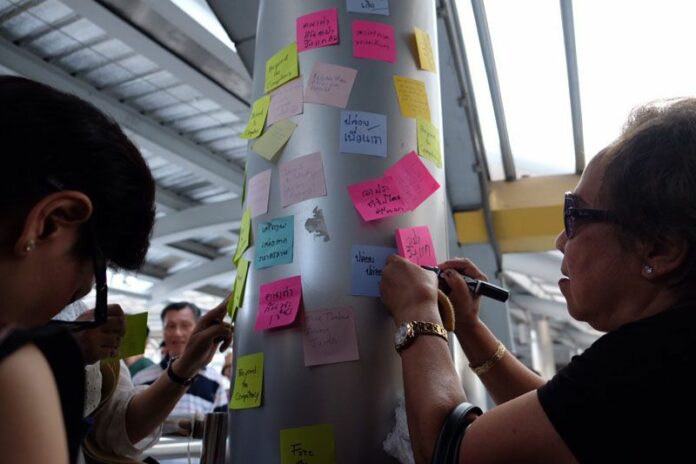 By Pravit Rojanaphruk
Senior Staff Writer
BANGKOK — "Cappuccino or espresso?" a police officer asked protest leader Sirawith Seritiwat minutes before leading him away from the scene of a public protest late Sunday afternoon.
That very sincere question, posed before a throng prickling with lenses and journalists, best captured the tactics at play by both the military regime and its opponents to win hearts and minds both in Thailand and abroad.
On the junta's side, the big-on-smiles handling of protesters – with no uniformed soldiers in sight – has become the new norm since tentative protests resumed recently. In close quarters with foreign and domestic reporters they couldn't separate from Sirawith, their smiles didn't flinch.
---
Watch Protest Leader Resist Arrest at BTS Chong Nonsi
---
These are the tactics of a junta protecting its grip on power in a time when the world is watching things unfold live over the Internet.
They're matched by the persistent handful of peaceful protesters, on Sunday led by Resistant Citizen leaders such as Sirawit.
Sirawit, aka "Ja New," did not scream "down with dictatorship" but instead handed out Post-It notes and asked people to use them to write messages calling for freedom, respect for human rights and the release of eight netizens abducted by soldiers on Wednesday and charged with sedition.
He repeated this request several times before conceding to the physically firm grip of officers that accompanied their polite "invitation" to leave with them in a police vehicle for a local police station, where there's a good chance officers indeed provided the beverage of his choice.

'There can be no peace without justice' reads the note
"
Their tactics were clear – gently and quickly remove the protest leaders without resorting to force in order to render the protest headless. The leaders are soon released after everyone else has packed up and gone home.
The gentle touch can be seen as a genuine desire to handle the burning situation in a civilized way. Or those smiles could be seen as smirks trying to gloss over the repressive climate, where even gatherings of five people are banned, if seen to have a political intent.
Unlike at Victory Monument earlier this month, cutting off the head didn't entirely succeed this time.
It didn't stop a man from holding a placard half an hour after Sirawith was taken away, which read "Prayuth's security IS NOT national security." Nearby another man stood silently reading a book, a gesture that after the 2014 coup became a sign of defiance along with eating sandwiches and raising three fingers.
And after Sirawith was led away, a few known opposition figures seemed to time their arrival with the focus on his removal, such as famed "sandwich-eating protester" Baramee Chairat, another member of Resistant Citizen.
Others made use of the sticky notes handed out by Sirawith, writing messages and affixing them to public surfaces.
"Bring back our democracy," "Free our friend," "Everyone is equal," "Free Thailand from junta" and "Beyond the competency" read several in either Thai or English.
At least one woman was later arrested not for protesting but for littering after she left notes stuck in a public area. Protest leader Sirawith was also fined 2,000 baht for littering.
In front of local and international media gathered near BTS Chong Nonsi, the protesters wanted Thailand and the world to see they are peaceful and reasonable. At the same time, the junta deployed sweet-talking police officers to put a kindly face on its power – or at least offer the choice of cappuccino or espresso.
Related stories:
Army Abductions: Activists Call for More Protests Despite Arrests
Protest Called for 10 Abducted by Military
Rallying Public for Release of Watana Exposes Hierarchy of Rights
Frustration Boils Over at Rare, Brief Protest
Activists Promise Protest if Watana Not Released by Military
Pravit Rojanaphruk can be reached at [email protected] and @PravitR.
Follow Khaosod English on Facebook and Twitter for news, politics and more from Thailand. To reach Khaosod English about this article or another matter, please contact us by e-mail at [email protected].