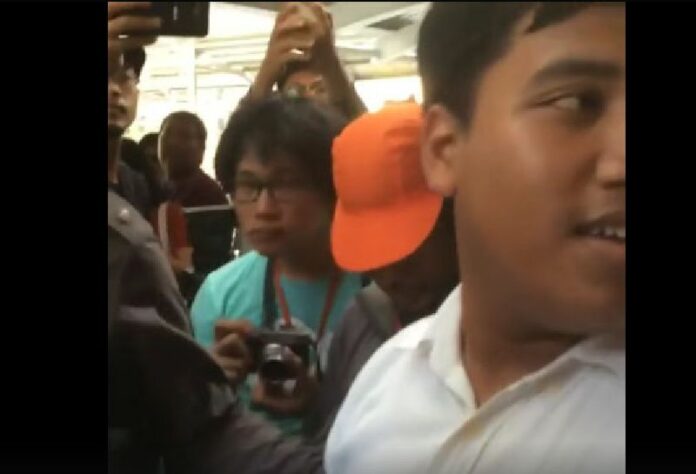 By Todd Ruiz and Teeranai Charuvastra
BANGKOK — Sirawith "Ja New" Seritiwat, a student activist and protest leader, was taken into custody at BTS Chong Nonsi late Sunday afternoon in Bangkok.
Khaosod English streamed the protracted confrontation live online.
Sirawith distributed post-it notes and called upon people to write pro-democracy messages on them before being led away in a police vehicle from Sathorn Road. Police officers said they were taking Sirawith to Thung Mahamek Police Station.
"Everyone use post-its, write down our stance, and post it everywhere! Post our rights!" Sirawith shouted as officers tried to escort him away.
---
Be There: Watch Protest Leader Resist Arrest at BTS Chong Nonsi via Facebook Live
---
Earlier on the skywalk, Sirawith told reporters that the military government's action will only make things worse. "If they continue to use this method to solve problem, by manhandling those who think differently, it won't lead to reconciliation or peace," the activist said.
Sirawith's interview was cut short by police who intervened and took him to police station, citing the need to clear traffic for pedestrians.
At least several dozen protesters gathered at the busy transit hub in Bangkok's financial district to protest the military abduction of 10 people early Wednesday morning, eight of which have been charged with sedition and computer crimes for being involved with online groups critical of the military government.
It was difficult to estimate the number of protesters as many blended in with pedestrians and commuters.
Sirawith, who is a leader of the Resistant Citizen group which has twice called for protests this month, repeatedly declined a police "invitation" to go with them to a police station, saying he had done nothing wrong.
Some protesters were still present at the location as of 5pm on Sunday.