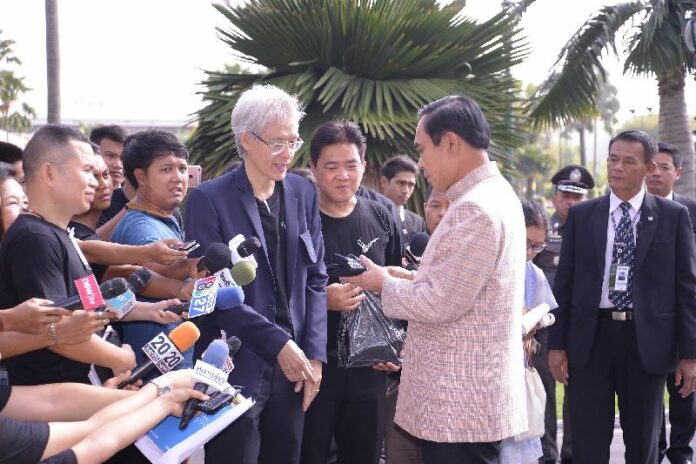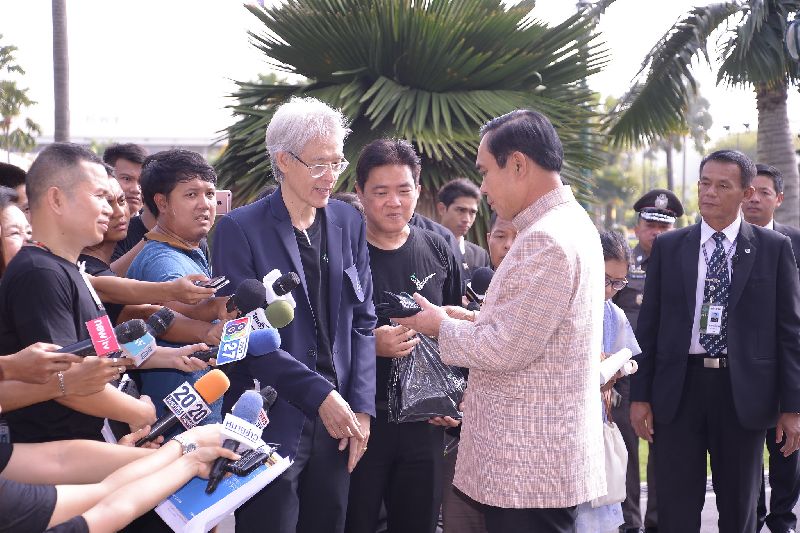 BANGKOK — When a veteran reporter said, "Freedom of the press is freedom of the people" Tuesday, the junta chief advised her to watch herself.
On the occasion of World Press Freedom Day, members of the Thai Journalists Association clad in specially designed black T-shirts to mark the occasion, visited Prime Minister Prayuth Chan-ocha today at government house. Within a few minutes of asking to revoke some of the junta's orders against media freedom, Prayuth made his standpoint on the issue clear.
"Isn't the freedom we have right now enough?" he asked.
Prayuth said he understood that there was a campaign to mark World Press Freedom Day. Yet when he was asked to repeal orders currently curtailing the media from criticizing the junta, he said, "I will review it. Because if I cancel this one, I can also add another one."
When Prayuth turned back to walk away, Yuwadee Thanyasiri, a senior reporter who has covered Government House for more than 30 years said "Freedom of the press is freedom of the people." Prayuth turned back and asked who said that.
After Yuwadee gave her name, Prayuth pointed at her and said "Watch yourself."
The Thai Journalists Association earlier this morning tried to submit their statement on the occasion of World Press Freedom Day directly to Prayuth. But they were asked by officials not to do so as it would set an example and encourage others to campaign using the same method.
In the annual index of Paris-based Reporters Without Borders issued last month, Thailand fell from 134th place in the 2015 report to 136th of 180 nations this year. Junta chief Prayuth Chan-ocha was described as a "new predator of information" for his verbal attacks and death threats against journalists.
Related stories:
Watchdog: Thailand Sinks as Press Freedom Declines Globally
Thairath Reporter Taken to Army Base for 'Red Bowl' Report
Sasiwan Mokkhasen can be reached at [email protected] and @amsasiwan.
Follow Khaosod English on Facebook and Twitter for news, politics and more from Thailand. To reach Khaosod English about this article or another matter, please contact us by e-mail at [email protected].