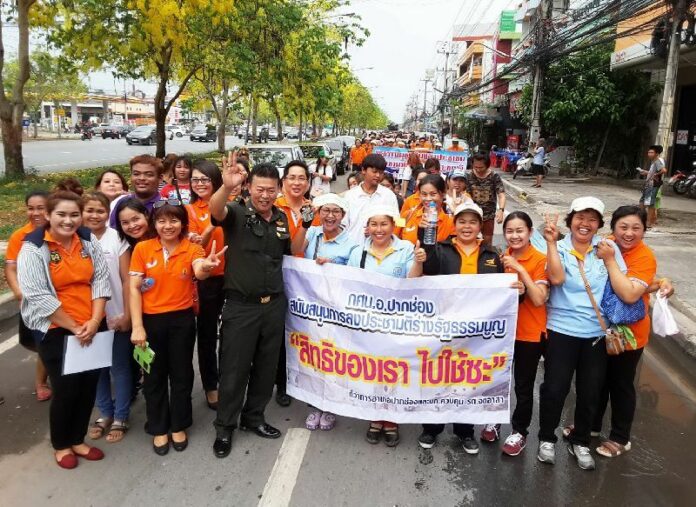 By Pravit Rojanaphruk
Senior Staff Writer
BANGKOK — The Foreign Ministry has issued six pages of talking points for diplomats around the world to discuss Thailand's charter referendum and military regime.
Written in English, "Thailand – Towards Reform and Sustainable Democracy: The Need for Public Order and Social Harmony," outlines arguments to defend and justify recent authoritarian measures taken by the military regime by framing them as necessary to protect "public order and social harmony."
"Public order and social harmony are key for the Government to be able to see through the Roadmap. The Government has, therefore, promulgated a number of laws to ensure that public order and social harmony prevail," it read. "These laws do not impinge on general freedom of expression – which we believe to be fundamental element of a democratic society – as long as such expression does not undermine public order and social harmony."
---
Analysis: Junta's Soft Power vs. Persistent Peaceful Protests
---
A copy of the document, dated April 20, can be found on the site of the Royal Thai Consulate in Chicago, Ill.
Reached for comment Monday and Tuesday, a Foreign Ministry representative said a spokesman was in a meeting and would return calls. Other calls went unanswered.
Officials in the ministry's information department said the document was distributed to both Thai embassies abroad and foreign embassies in Thailand about two weeks ago.
"We offered embassies information to use for their consideration," said the staff member who declined to give her name. "When the new committee of the Foreign Correspondent's Club of Thailand paid a visit to the ministry previously, we also gave it to them."
Going further, it seeks to broadly characterize the motivations and goals of the military regime installed after coup makers led by Gen. Prayuth Chan-ocha suspended democracy. It described the government as open and accommodating.
"In fact, the Government has been receptive to all views regarding the current process of reconciliation and reform," it said.
That seems a sunny assessment of the state of affairs in the kingdom, where public protests have been banned, open campaigning criminalized, and junta critics seized and charged with sedition in the run-up to a public referendum on the constitution drafted under military supervision.
The talking points memo, however, paints a picture of a harmonious nation that has been free of discord and tension since the military seized power in May 2014.
"All the freedoms remained, but with certain limits in the early days," it reads. "Nevertheless, there was no tension in the air and critiques of the administration could often be seen in the press."
Despite describing a nation free of tensions, the Foreign Ministry-issued document also blames "a certain individual" for sewing persistent discord.
"However, in recent days, a certain individual has acted in violation of those laws – and repeatedly so despite warnings from the authorities. His actions are politically motivated and are designed to incite discord and the process of reconciliation and reform in Thailand which, up till now, has been proceeding apace."
It does not deign to identify by name what can only be former Prime Minister Thaksin Shinawatra, whose political influence the military has sought to dismantle since it overthrew a civilian government loyal to him which had been led by his sister.
The document insists "Thailand's commitment to the promotion and protection of civil liberties and human rights remains unchanged," while also asserting that "democracy means more than just the holding of elections of upholding rights and freedoms."
As for the draft charter, it is described as "the product of an extensive and inclusive process of hearings, public seminars and debates."
That description may surprise those who sought to weigh in on the drafting process undertaken by a panel appointed by the junta, who mostly deliberated over its contents between themselves.
Finally, on its last page, the paper's summary urges the international community to recognize the progress made toward establishing a sustainable democracy.
"We urge our friends and partners in the international community to recognize the progress Thailand has made – and will continue to make – on our journey to a strengthened and sustainable democracy that truly meets the needs and aspirations of the Thai people… We, therefore, continue to ask for time and space to let reconciliation and reforms take their course."
This process, it describes, is one undertaken by the body public.
"Ultimately, sustainable reforms which shall see Thailand through a stable, prosperous and an altogether stronger country must come from within – by the Thai people and for the Thai people."
Additional reporting Sasiwan Mokkhasen
Pravit Rojanaphruk can be reached at [email protected] and @PravitR.
Follow Khaosod English on Facebook and Twitter for news, politics and more from Thailand. To reach Khaosod English about this article or another matter, please contact us by e-mail at [email protected].