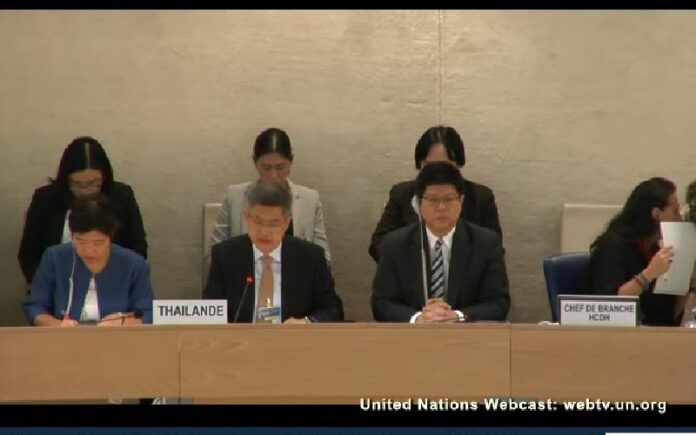 By Pravit Rojanaphruk
Senior Staff Writer
BANGKOK — When more than 100 U.N. member states convened Wednesday in Geneva for a semiannual review of human rights conditions in Thailand, it wasn't intended to be a "name and shame" session.
But coming at a time the nation is under military rule, that's pretty much how it ended up.
Thais who oppose the militarization of the kingdom since the May 2014 coup delighted in hearing many democratic countries take turns telling representatives of the military regime what they see wrong with Thailand.
Belgium, for example, asked when Thailand will stop trying civilians in military tribunals. Norway, herself a kingdom, went so far as to recommend that Thailand abolish altogether its controversial law against defaming the monarchy.
The use of military courts to try civilians, arbitrary detentions without charge masked as "attitude adjustment," absolute power wielded by junta leader Gen. Prayuth Chan-ocha and expansion of lese majeste prosecutions were among the key issues highlighted by the U.N. member states.
Rotating Hot Seat
Under the Universal Periodic Review process, all U.N. member states are subject to the critiques and recommendations of its full membership before the U.N. Human Rights Council. On Wednesday it was Thailand's turn.
The review process was a rare occasion Thailand had to defend its human rights record and entertain recommendations by other governments.
What played out over about three hours wasn't nice to hear, despite being couched in diplomatic niceties. And for those opposed to military rule in the kingdom, Wednesday's session was welcomed as a marathon dressing-down session of the junta by foreign states.
Thammasat economist Pichit Likitsomboon wrote Wednesday night that Thailand's representatives were "collectively mauled" during the process.
"Thai Foreign Ministry officials still in possession of conscience, who have not turned a blind eye to lick the military for career advancement, are well aware of how much Thailand today has become a pariah," he wrote.
An Unconvincing Defense
Making the junta's case, a military judge insisted that trials by the military were no different from those held in normal civilian courts of justice. He also said only a few civilians have been subjected to military trials.
The representative, from the Defense Ministry's Judge Advocate General's office, said they only try civilians accused of serious crimes, such as possessing heavy weapons and insulting the Royal Family. While the Thai delegation sought to assure the international community the military would try civilians fairly, they left out a a few crucial points.
For one, military court judges are not independent. They operate under the Judge Advocate General Department, which is under the Defense Ministry and thus under the junta.
Civilian courts are presided over by civilian judges which, theoretically, are independent as they operate under the Court of Justice.
Secondly, conflicts of interest invariably exist when military courts are trying activists charged with sedition for opposing military rule, such as the so-called Facebook 8.
Then there's the question of whether the more 1,000 civilians facing military trials constitutes "a few people" as claimed.
Ultimately, why would the junta face continued flak from the international community over subjecting civilians to military trials if it believes such trials are no different from the normal course of justice? It just makes no sense.
Thai representatives also defended the continued use of absolute power by Gen. Prayuth under Article 44 of the provisional military constitution by saying it was nothing new.
The remark incorrectly gave the impression that such power has been routinely used and is not exceptional. In fact, it's been five decades since anyone wielded such power, during the dictatorship of Field Marshal Sarit Thanarat, who staged a 1957 coup and ruled with an iron fist from 1958 till his death in 1963.
As to the controversial lese majeste law, the kingdom's representative again failed to acknowledge the spike in such cases since the coup or explain why military trials are necessary when they were routinely handled by civilian courts prior to May 2014.
Correction: An earlier version of this story misstated that the civilian courts operate under the Justice Ministry, in fact they are independent from the government under the Court of Justice.