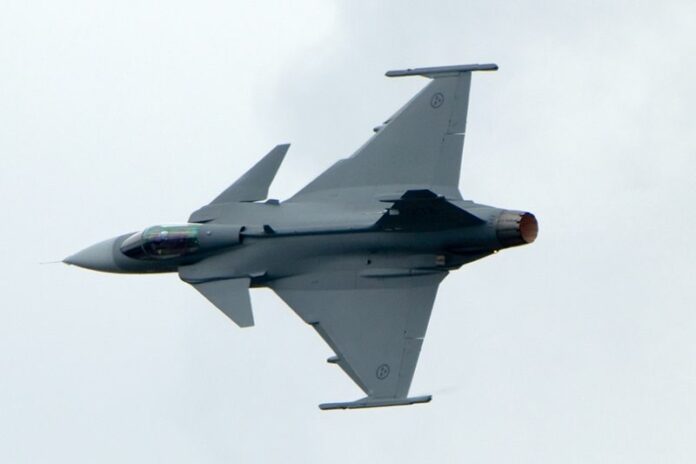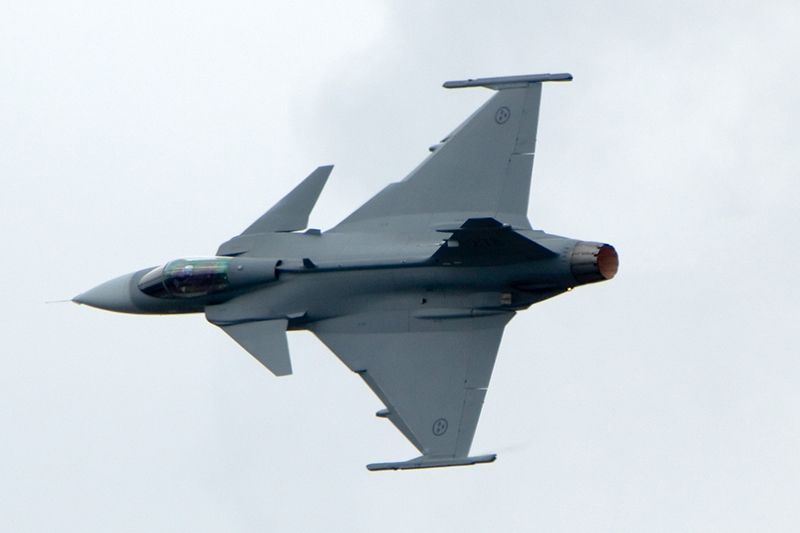 BANGKOK — A top official with the Swedish Embassy today denied knowledge of a proposed deal to sell four fighter jets to Thailand's military government.
After a meeting earlier Thursday with Swedish ambassador Staffan Herrstrom at Government House, Deputy Prime Minister Prajin Juntong told reporters he raised the issue of buying four Saab-built Gripen JAS fighter jets, one day after the Swedish representative to the United Nations criticized Thailand for human rights violations under the military regime.
"The United States and Russia have some conditions, but Sweden could give us [a good deal]," said Air Chief Marshal Prajin.
Herrstrom could not be reached for comment. But Charlotta Schlyter, deputy head of the Swedish mission to Thailand, said late Thursday afternoon that the matter "was not raised in the Ambassador's meeting with Deputy Prime Minister Prajin Juntong today, and is not under discussion."
The Thai Royal Air Force's 12 Gripens were purchased in 2007 under a previous junta. Their purchase was met with some controversy, as Thailand did not have a democratic government at the time.
In this government-issued photo, Staffan Herrstrom meets Prajin Chantong at Government House in Bangkok on Thursday. Photo: Government House
A representative of a Swedish NGO opposed to Stockholm's arms sales called the news worrying.
"The Swedish Peace and Arbitration Society (SPAS) strongly criticises any Swedish plans of approving this sale," Linda Akerstrom of the society's disarmament campaign wrote in an email. "According to Swedish arms trade regulation, arms trade with countries in armed conflict and with serious and widespread human rights violations should not be approved."
She also warned that selling the jets to Thailand would amount to "actively supporting the undemocratic military regime," and urged Sweden to work for the benefit of human rights, instead of "increasing income from arms sales at the expense of the people living in Thailand."
According to a statement posted online by the Embassy of Sweden, Ambassador Herrstrom's meeting with Prajin concerned "the importance of freedom of expression and freedom of assembly" and the sale of jets was not raised.
Prajin stressed the air force had yet to make any official decision.
"I'm confident we made the right choice," he said. "However, I think that for a fleet, the appropriate number in terms of tactical value, is 16. This is our goal."
Sweden 'Concerned' by Rights Violations
Prajin's announcement came just one day after the Thai junta was grilled during an annual U.N. assessment of human rights situation in Thailand and 13 other nations, called the Universal Periodic Review.
Among representatives at the session who express concern over the junta's suppression of civil rights was Veronika Bard, Sweden's ambassador to the United Nations.
"We are concerned about the human rights situation in Thailand, including the increased restrictions on freedom of expression in connection with the constitutional referendum," Bard said according to a transcript of the session.
She also recommended Thailand "develop, enact and implement a national action plan on business and human rights in order to implement the UN Guiding Principles on Business and Human Rights."
Correction: An earlier version of this story incorrectly stated that Prajin Chantong was the commander of the Royal Thai Air Force when the Gripen deal was sealed in 2007. In fact, Prajin only rose to the position in 2011.
Related stories:
Thailand's Top Brass Defends Plan to Spend 36 Billion Baht on Submarines