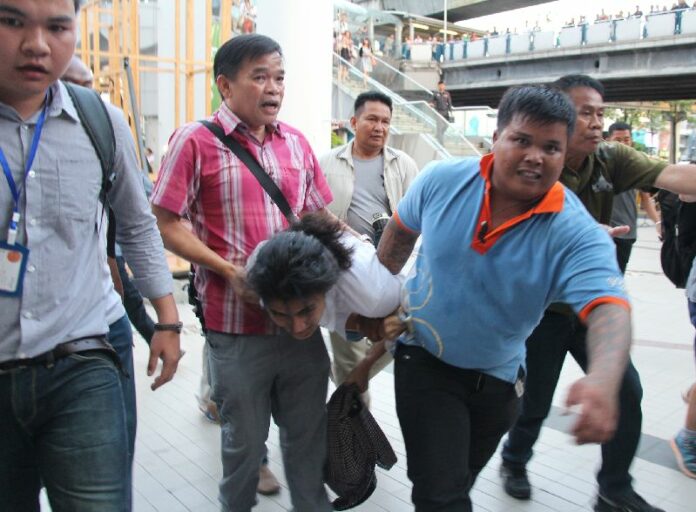 BANGKOK — Police authorities were meeting Monday to discuss whether to allow an upcoming protest to mark the second anniversary of the 2014 coup d'etat called for Sunday by pro-democracy activists.
Pro-democracy activists have scaled-up their ambitions for Sunday's protest, one year after police forcibly dispersed them from a downtown demonstration for the first anniversary.
---
Thai Police Forcefully Break Up Student Anti-Coup Protest
---
All "political gatherings" of more than four people remain banned, and police said they will consult with the military about the rally called for Sunday by the New Democracy Movement at Thammasat University's Tha Prachan.
"Right now we are considering the issue, because this is a demonstration," Col. Rangsarn of Chanasongkram Police Station said. "They will cross police station jurisdictions, so this is a matter for the Metropolitan Police Bureau."
The rally will take place at 4pm at the university's memorial to the Oct. 6, 1976 massacre, according to the announcement from the pro-democracy group. Protesters will proceed along Ratchadamnoen Avenue to the Democracy Monument at around 5pm. The event is named "Two Years With a Future the People Did Not Choose."
Under the newly enacted public assembly law, protesters are required to notify police if they plan to gather, and at this time the New Democracy Movement has not done so, Rangsarn said.
Reached for comment this afternoon, junta spokesman Winthai Suvaree said he was unaware of the protest.
"We will stick to the laws in our decision," he said, declining to say whether the rally would be allowed.
The 2015 protest, which was also organized by the New Democracy Movement, started as a peaceful, silent "stand-in" but ended in scuffles as police officers dragged away several protesters. All 27 protesters were arrested. Some later accused police of using excessive force, an allegation denied by authorities.
Related stories:
Thai Police Forcefully Break Up Student Anti-Coup Protest
Anti-Coup Students Describe 'Police Abuse' to Rights Commission
TV Company Dismisses Employees for Joining Anti-Coup Protest