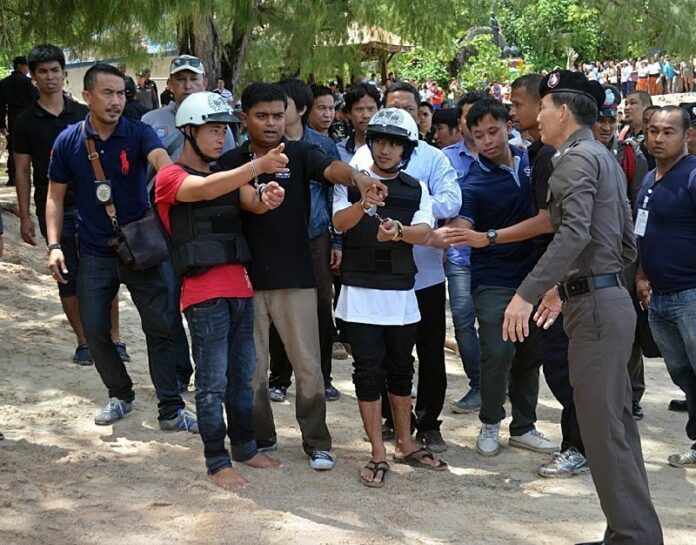 BANGKOK — Lawyers representing the two Myanmar men sentenced to die for the brutal murders of two British backpackers said today they will soon file an appeal to overturn their convictions.
The appeal will seek to vacate December's judgment against Zaw Lin and Wai Phyo, who were found guilty of the September 2014 double murder of David Miller and Hannah Witheridge, a case that captured widespread attention in both domestic and foreign media.
---
Koh Tao Murders: Court Says DNA Trumps Other Flaws in Case
---
Despite being held on death row in Bangkok's Bang Kwang Central Prison, Zaw and Wai are in good spirits and optimistic about their upcoming appeal, their lawyer said Tuesday.
"They still have hope," Nakhon Chompuchat said by telephone.
The defense team consists of a group of lawyers working pro bono. Nakhon said they will submit the appeal by May 23. The case will be retried in the appeals court on Phuket. A verdict could be reached "at the earliest" in 2017, Nakhon said.
No new evidence or witnesses will be introduced to the appeal trial; rather, much of the proceedings will rest on interpretation of the evidence in the previous court. The two defendants, Zaw and Wai, will not make any appearance in the courtroom, Nakhon said.
"The court will not summon the defendants, except when the verdict is read," Nakhon said.
Restricted Access
On Dec. 24, 2015, the court found Zaw and Wai guilty of killing Miller and Witheridge on a beach on Koh Tao in the early hours of Sept. 15, 2014. The two defendants, who worked at a bar there, were also found guilty of raping Witheridge.
They were sentenced to death.
However, the verdict fails to lay to rest the controversy over the police investigation into the murders since the earliest days, namely, the accusation that Zaw and Wai were "scapegoats" for the killings.
Although police initially said Zaw and Wai admitted to committing the crimes, the pair later recanted their confessions once they were provided with lawyers. Zaw and Wai said they were tortured by police into making a false confession, which police deny.
Their lawyer, Nakhon, said his defense team is still having difficulty providing legal counsel to the pair. The prison only allows interpreters who are accredited by the Lawyers Council, Nakhon said, and the defense team has to produce certificates each visit.
"Last time, we brought a letter from the Lawyers Council, but … it's very difficult to do that every time," Nakhon said. "I'm trying to clear this up by the prison."
But lawyers and family members are permitted to see the two defendants without any trouble, he added.
Related news:
Koh Tao Murders: Defense Asks Court to Drop Charges
Koh Tao Murders: DNA on Weapon 'Does Not Match' the Accused
Lack of Evidence, Local Media Coverage Adds to Mystery of Koh Tao Murder
Koh Tao Trial Resumes, Court Shown Footage of Victims' Final Night
Koh Tao Murder: Top Forensic Scientist to Testify for Defense
Koh Tao Murders: Newspaper Apologizes for Implicating Official's Son