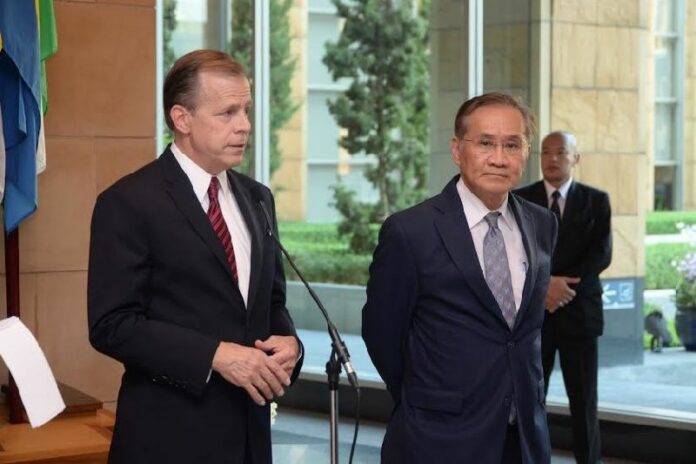 By Pravit Rojanaphruk
Senior Staff Reporter
BANGKOK — When U.S. Ambassador Glyn Davies read some concise yet pointed concerns about the human rights situation in Thailand this past Thursday during a joint news conference, it was much the same as American diplomats regularly do around the world.
But as the horror on Foreign Minister Don Pramudwinai's face made apparent, it would become a tempest in a teapot that would result in a torrent of nationalist sentiments against foreign criticism and leave people divided over its effectiveness.
Davies' statement, in which he said the arrests of Facebookers and an activist's mother created "a climate of intimidation and self-censorship," led junta supporters to brand him rude and claim Thai pride was violated. A few extreme nationalists have called for his ejection.
---
Prayuth Eager To 'Reach Understanding' With New US Ambassador
---
Thanet Aphornsuvan, an expert on Thai-US relations and a Thammasat University distinguished fellow, said the criticism could be counterproductive, as the old elites were likely affronted by the brief statement read by Davies and dutifully translated by his staff.
"The European Union is more subtle. They will be able to continue [dialogue] longer and prevent the situation from further deterioration. What Glyn Davies did was rather insensitive, given that it's known that [the junta and its supporters] would be upset," Thanet said.
Thanet said some likely felt offended and construed Davies' comments as taking side with the Redshirts, who supported the former civilian government ousted by the coup.
"However, this is the American way, isn't it?" he said of offering open criticism of allies and adversaries alike.
Attempts to reach Davies were unsuccessful; an embassy spokeswoman did not reply to written inquiries.
Thanet added that Thailand is no longer dependent on the United States as it was during the Cold War. Today, the military can purchase weapons from other powers.
Puangthong Pawakapan, associate professor of international relations at Chulalongkorn University, defended the U.S. Ambassador's straightforwardness.
"If you ask whether it will be productive, the answer is that they won't budge. Because if they retreat, they won't be able to control the political situation. The majority of the people do not accept them. And even if [Davies] was softer, it wouldn't yield a different result."
On Monday, junta leader Prayuth Chan-ocha said Davies' comments would "backfire" and turn the Thai public against him.
That's unlikely to happen, said Virot Ali, an international relations lecturer at Thammasat University.
He added that the United States, along with its Western allies, was more likely to step up pressure on the junta's human rights record, leading the regime to offer more reasonable responses than dismissing such matters as internal affairs.
Related stories:
Anti-Junta Activist's Mother to be Released on Bail