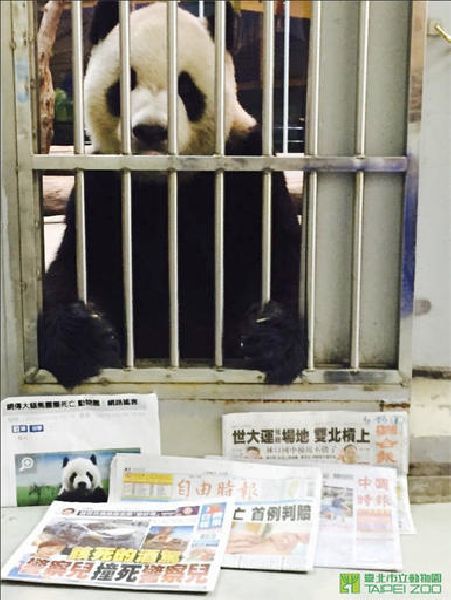 BEIJING — The subject of the photo looks out from behind bars, with newspapers arranged in front of him to prove what day it is. This "proof of life" shot is not a scene from a kidnapping but an effort by the Taipei Zoo to debunk rumors that a prized panda recently died.
Photos released by the zoo this week show Tuan Tuan looking at the papers laid out in front of his inner enclosure. The zoo's director said in a statement that Tuan Tuan, his partner Yuan Yuan and their cub are fine.
"We welcome everyone to visit them at the zoo," Director Chin Shih-chien said.
The website of China's official Communist Party newspaper Global Times had reported the panda died of canine distemper, sending the story racing across the Chinese-language Internet. The paper later retracted the story and apologized for not checking its facts, a potentially egregious error given the political sensitivity surrounding the panda pair.
Giant pandas exist only in China and Beijing has often used overseas gifts of the animals to make political statements about its relationship with other governments. Beijing claims the self-governing island of Taiwan as its own territory, to be brought under its control by force if necessary.
Tuan Tuan and Yuan Yuan, whose combined names translate as "Reunion," were sent by Beijing to Taiwan in December 2008 following the election of China-friendly President Ma Ying-jeou as the island's leader.
The rumors of Tuan Tuan's death came just days before the inauguration of Ma's successor, Tsai Ing-wen, whose party formally supports Taiwan's formal independence from China
Story: Associated Press