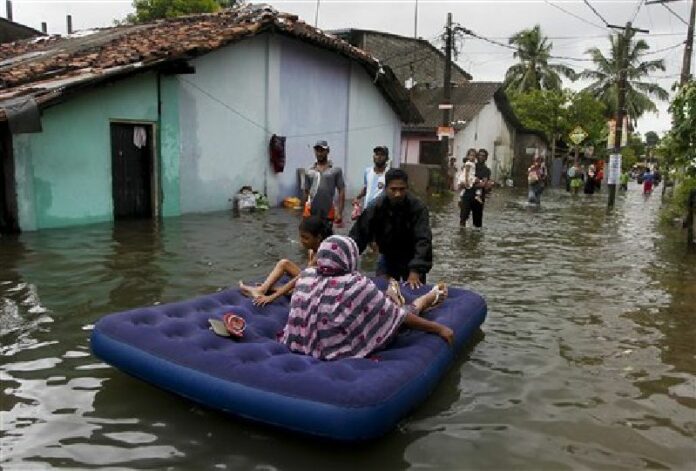 COLOMBO, Sri Lanka — Torrential rains have sent landslides cascading over three villages in Sri Lanka, and at least 200 families were feared buried under the mud Wednesday, the Sri Lankan Red Cross said.
Sixteen bodies have already been recovered and about 180 people have been rescued from the enormous piles of mud and debris unleashed at around 5 p.m. Tuesday, according to military spokesman Brig. Jayanath Jayaweera.
More than 300 soldiers have been deployed to search for survivors in the villages of Siripura, Pallebage and Elagipitya in Kegalle District, about 72 kilometers north of Colombo, the capital, Jayaweera said. Heavy fog and electricity outages, as well as the instability of the ground, were complicating rescue efforts.
At least 200 families were reported missing on Wednesday, the Sri Lankan Red Cross said in a statement. Officials said the situation was unclear.
State broadcaster Rupavahini showed images of huge mounds of earth covering houses, while muddy torrents of water gushed from hilltops above. Villagers said 66 houses had been buried or damaged, according to local journalist Saman Bandara.
Some 1,141 people who escaped the disaster were sheltering and being treated for minor injuries at a nearby school and a Buddhist temple, according to government official Mahendra Jagath.
The same rains that unleashed the mudslides have also caused severe flooding in cities including Colombo. The country's disaster management center had reported 11 deaths from electrocution and smaller landslides elsewhere in the island nation in the past few days.
Sri Lankan men push an auto rickshaw stranded in a flooded road after heavy rains in Colombo, Sri Lanka, Monday, May 16, 2016. Photo: Eranga Jayawardena / Associated Press
The Meteorological Department has forecast more rain and rough seas for much of the country.
Schools in many parts of the country were closed Wednesday due to the bad weather. Many schools are being used to provide shelter for the affected people.
Sri Lankans wade through a road submerged in flood waters in Colombo, Sri Lanka, Tuesday, May 17, 2016. Photo: Eranga Jayawardena / Associated Press
Story: Bharatha Mallawarachi /Associated Press
To reach us about this article or another matter, please contact us by e-mail at: [email protected].