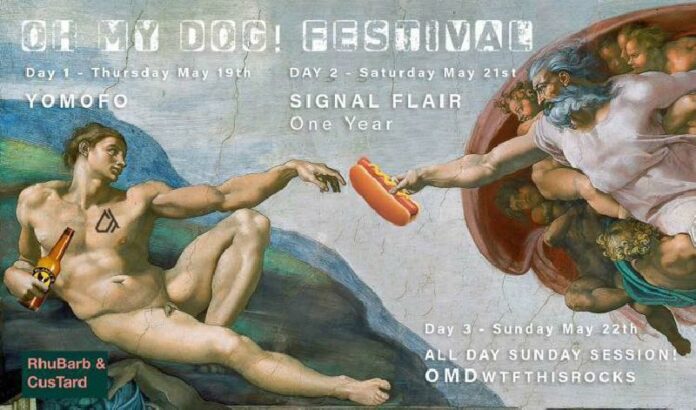 BANGKOK — Earfuls of live music, comedy and spoken word from a fistful of bands and performing artists will fill three nights of an underground Silom Road art venue this weekend.
For its Oh My Dog! long weekend fest, Whiteline will host four hard-rock bands Thursday (YoMoFo), absolutely nothing Friday (Visakha Bucha Day), performing artists Saturday (Signal Flair) and a seven-act deep post-rock minifest (OMDWTFThisShitRocks)

Thursday – YoMoFo

Thursday night the second floor of Whiteline will be rich with testosterone ozone as familiar and fresh faces hard-rock out.
Headlined by Degaruda, YoMoFo opens with Cold Black Vines – a new band with members from Abuse the Youth, Texas Massacre, Deadtown Trash and The Day of Classic Pain.They're followed by progressive indie rock Count the Thief and The Ginkz.
The party kicks off at 9pm on Thursday. Admission is 300 baht and includes a domestic craft beer.
Saturday – Signal Flair

Painters, poets and funny folk will take the stage Saturday night to celebrate the first anniversary of performing arts community Signal Flair.
Hannah Theodorou and Sazibimol "Bua" Nipatkusol will live paint the Whiteline walls.
Wordsmiths Steve Catt, Rouge Et Noir and The Bedroom Poet will perform spoken word. Stand-up comics Alex Dang, Stacy Williams and Leo Soares will do their best to make the audience LOL IRL.
And there will be music. Synthwave funk sensation DCNXTR is the top-billed act in a lineup that including fresh-faced rapper Unda and electro-percussion courtesy of the fine folks of The Voodoo Asylum. Later on DJs Freddy Frunk and Rory-Breaker Morant will spin the night into after-party mode.
The whole enchilada starts at 8pm. Tickets are 300 baht in advance and 500 baht at the door. Tickets include one drink.
Sunday – OMDWTFThisShitRocks

Some of Bangkok's favorite post-rockers and post-rollers will assemble on Sunday. Triggs and the Longest Day tops a lineup which includes Hariguem Zaboy, Matthew Fischer, Street Wreck, Rocket Science, Hope the Flowers and Ugoslabier.
Doors open at 4pm on Sunday. Admission is 300 baht including one drink.
A three-day ticket is available for 800 baht and includes some drinks and food. Dogs eat free ice cream.
Whiteline is located on Soi Silom 8, a 10-minute walk down Silom Road from BTS Sala Daeng.