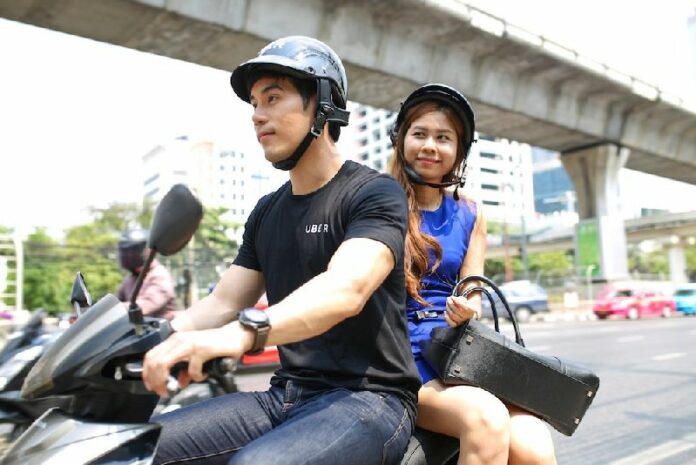 BANGKOK — UberMoto officially halted their service today after a second government order, while the junta says it will develop and launch its own mobile application for motocycle taxis.
UberMoto said it suspended service at noon on Wednesday while competitor GrabBike continues to hold out for a compromise one day after transportation officials called on both to get off the road for a second time.
"Despite receiving a warm welcome from passengers and our partner drivers, we decided to temporarily suspend UberMoto service in Bangkok from noon today," Uber wrote in a statement.
Uber said it aims to reach an agreement with authorities in order to operate legally. It launched its pilot service offering on-demand motorcycle taxis in parts of Bangkok this past March.
GrabBike, operated by Singaporean-based Grab, wasn't ready to throw in the towel.
"We are willing to cooperate with every related party to integrate technology for developing safer and more convenient public transportation," read a Tuesday evening Grab statement.
Read: No Really, Govt Tells GrabBike and UberMoto, What You're Doing is Illegal
The Department of Land Transport first warned both companies to stop their services March 1 as its bikes, drivers and payment rates did not comply with legal regulations.
A department official on Tuesday argued that the services were tantamount to organized crime and created unfair competition for Bangkok's traditional motorcycle taxi operators, who have been subjected to more stringent regulation.
Col. Kanchai Prachuap-aree, who heads the junta's regulation effort, said Tuesday that his committee has a plan to launch a legal application for Bangkok's 80,000 registered drivers.
Users will only need their mobile phone number to registration the application, he said, which will book rides without charge. No other details or a release date were given.
After the military seized power in 2014, it moved to regulate the public transportation sector, which is known for low standards and criminality. Motorcycle taxis, who are heavily territorial and often paid neighborhood figures for patronage, were required to comply with strict new regulations such as posted fare rates at every taxi stand.
Last week a GrabBike driver was intimidated and threatened with assault by motosai when he attempted to pick up a Chulalongkorn University student from his dorm.
If they comply with regulations, it's still unclear if Uber and Grab would be allowed to operate.
Both passengers and drivers turned to the internet to express their happiness online.
"Now how can I find a part-time job?" Facebook user Keng Pongsak wrote in reply to Uber's message. "Shouldn't it be the customers who choose what service they will use? And if it is illegal, why don't you make it legal?"
Others suggested a compromise must be possible.
"The Department of Land Transport should have offered solutions to Grab, so we can coexist," wrote Facebook user Russia Mueanthip on Grab's Facebook page. "We should keep a good application, not shut it down. Thailand should move forward, not stay put."
Related stories:
'You Wanna Fight?' Bangkok Moto Taxis Confront GrabBike
UberMoto Ignores Same Ban Ignored by GrabBike
GrabBike Responds to Govt Ban With Big Discount and Apathy