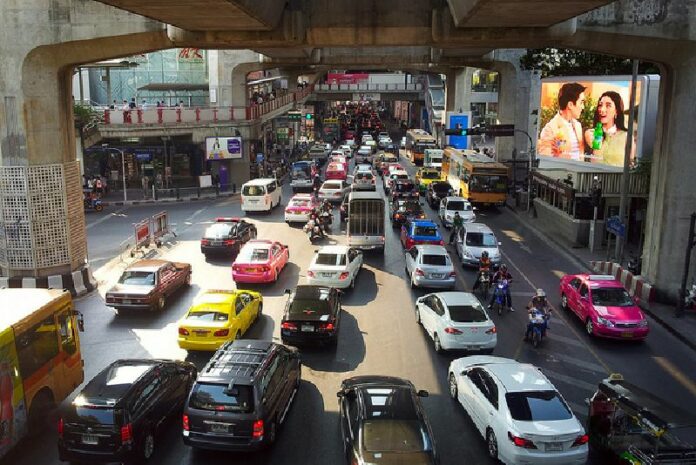 BANGKOK — A parade, the long weekend and weather could make drivers want to put a bag over Bangkok's already ugly roads Thursday.
Even police admitted traffic will not be pleasant tomorrow when the Pride of Thailand, aka Leicester City FC, parades in a loop running from the Victory Monument area past Bangkok's other proud monuments of MBK Center, Siam Paragon and CentralWorld.
That and everyone will be getting an early start on the weekend's fun and/or reverence due to Friday's Visakha Bucha holiday. The forecasted 50 percent chance of rain may not be an issue – it's expected in the morning.
Thursday evening will definitely see worse traffic due to all of the above, deputy police spokesman Songpol Wattanachai said.
The footballers parade starts at 4:30pm from King Power HQ and is scheduled to return there one hour later.
That means roads that would be figuratively shut down by bad traffic at that time of day will be literally shut down.
Songpol said only the necessary portions of Phaya Thai, Rama I, Ratchadamri, Ratchaprarop and Ratchawithi roads would be closed for a short time as the parade passes, and police will be along the route to guide motorists to detours.
Friday marks Visakha Bucha Day, so on Thursday expect high traffic on roads out of town and at alcohol sellers.
A map of Thursday's victory parade route. Photo: Leicester City FC Thailand / Facebook
Related stories: