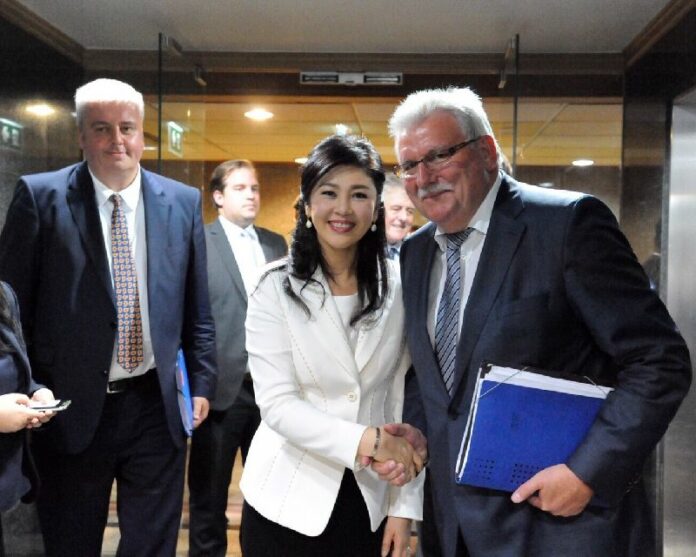 BANGKOK — The European Union is likely to resume Free Trade Agreement discussions with Thailand should the kingdom take steps toward democracy, the head of the EU Parliament's delegation said Wednesday.
Two years after the Europeans shelved the prospect of a trade agreement in response to the coup d'etat, the European delegation said Wednesday that staging a free and fair charter referendum could lay the groundwork for the early technical phase of talks to begin.
"Technical negotiations are possible. If the referendum [is] the right way to democracy," said Werner Langen, German chairman of the delegation for relations with Southeast Asia and the Association of Southeast Asian Nations.
From technical talks to formal adoption, such a process would likely take years.
Langen, who held a news conference after a two-day visit to Thailand by eight E.U. MPs, himself included, was vague about whether negotiations would resume if the junta-sponsored draft charter is rejected by referendum, or if the process is perceived as not being free and fair.
If the charter is rejected, a member of the delegation said the E.U. would need to analyze the situation further.
Langen said he is personally not optimistic about the democratic outlook of Thailand under the junta.
"I personally very much doubt if the situations are on the right track," he said.
Asked whether the EU would impose sanctions if the ruling junta failed to return democracy next year as promised, Pier Antonio Panzeri, a member of the subcommittee on human rights said it's not possible to make remarks about possible sanctions.
"As things stand it is not possible to make remarks about possible sanctions," Panzeri said. "We don't know what the outcome of the referendum will be."
Langon also expressed doubts about the direction of the referendum and whether it would be free and fair. He added that free and fair elections are a prerequisite for the EU to resume normal relations with Thailand.
"It's quite difficult to see the military regime [hanging on] in a longer term basis," Langen said, adding however that it's not the role of the EU to be lecturing Thailand.
"But we don't want to come here to preach lessons," he said.
The eight E.U. MPs met with both former premiers Yingluck Shinawatra and Abhisit Vejjajiva, and representatives of the Foreign Ministry.