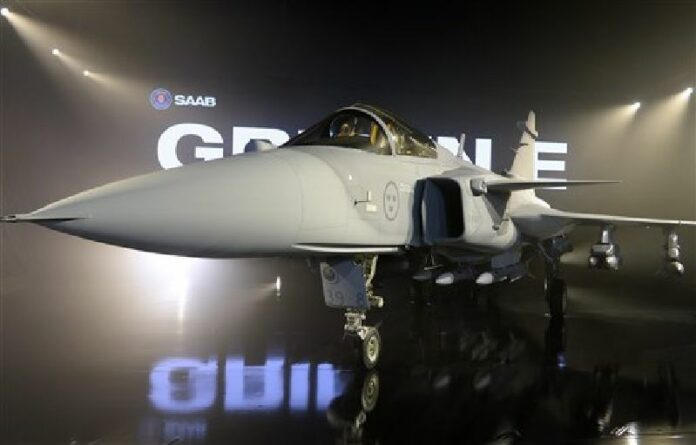 STOCKHOLM — Swedish aircraft maker Saab has unveiled the latest version of its Gripen fighter jet.
About 500 people, including Swedish Defense Minister Peter Hultqvist and Brazilian air force commander Nivaldo Luiz Rossato, watched the rollout of the new Gripen E on Wednesday in Linkoping, about 170 kilometers southeast of Stockholm.
The E fighter is slightly bigger than previous versions, has a stronger engine and updated radar systems. It has been in development for about 10 years. The first test flight is expected later this year.
Brazil has ordered 36 Gripen fighters for delivery between 2019 and 2024. Earlier versions of the plane are in service in the air forces of Sweden, South Africa, Czech Republic, Hungary and Thailand.
From left, SAAB MD Hakan Buskhe, Swedish Minister of Defense, Peter Hultqvist , SAAB Chairman of the Board Marcus Wallenberg, Brazilian Air Force Commander Nivaldo Luiz Rossato and Swedish Chief of the Air Force, Major General Mats Helgesson during a presentation of the new E version of the Swedish JAS 39 Gripen multirole fighter Wednesday in Sweden. Photo: Anders Wiklund / TT / Associated Press
Story: Associated Press
Related stories:
Sweden Denies Discussing Sale of Fighter Jets to Thai Junta