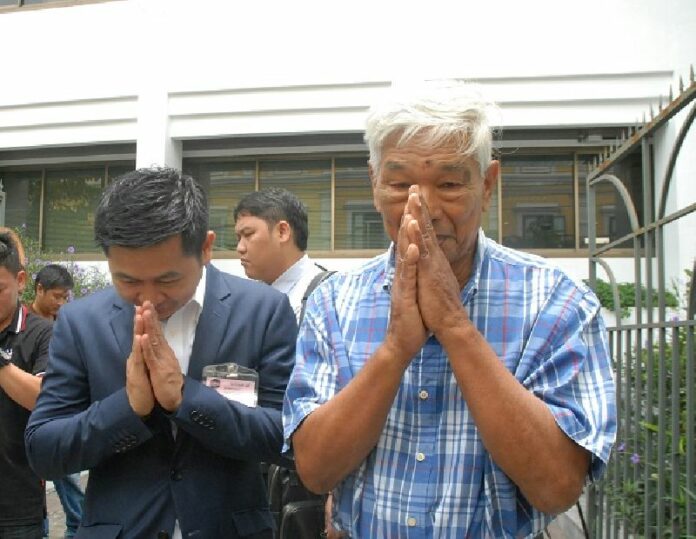 BANGKOK — A 77-year-old man arrested for giving flowers to a pro-democracy activist was given a suspended jail sentence Monday at a military tribunal in the capital.
Former teacher Preecha Kaewbanpaew was arrested in October for giving food from McDonald's and some flowers to Resistant Citizen leader Pansak Srithep during his rally last March. Preecha pleaded guilty today to a charge of violating the junta's ban on political gatherings of five or more people.
Last year Preecha was initially charged with sedition which can carry a sentence of seven years. The charge was later dropped and Preecha was instead charged with violating the junta's ban on political gatherings of five or more people.
The military court sentenced Preecha today to 6 months in jail and a fine of 8,000 baht.
As Preecha confessed, the sentence was halved to 3 months imprisonment and a 4,000 baht fine. He was given a one year suspended jail term. The retired teacher was able to return home today after paying the 4,000 baht fine.
---
Elderly Man Charged with Sedition for Giving Flowers
---
His lawyer Winyat Chartmontree said his client made the decision to confess after the prosecutor dropped the charge of sedition.
"At first he was charged under Criminal code 116 for instigating sedition and we thought we will fight because it is unacceptable as he was just there to offer support," said Winyat Monday morning. "But since he is now only charged with violating the ban of [political] gatherings, we think fighting will be too much of a burden for him considering his age and state of health."
Winyat said his client was happy with the verdict as he agreed it is the best result for an old man suffering from several conditions including heart disease.
Preecha only learned he was wanted in October when he was trying to cross the border into Laos for a sightseeing trip with a group of retired friends.
Back in March, 2015, Preecha said he went to watch a group of activists called Resistant Citizen walk along Ratchadamnoen Avenue. The group was defying a junta ban on political gatherings to call attention to state suppression of speech and rights.
Preecha admitted handing some flowers to the group's leader Pansak Srithep at the behest of a woman present.
The retired teacher was taken to detention in Bangkok for two days in October before the military court released him on a 150,000-baht bond, as well as his Government Savings Bank lottery account and 1,000 baht.
"I did nothing wrong, I just walked along the road," he said in an October interview. "I have the right to walk."
Related stories:
Woman Charged With Sedition For Posing With Red Bucket
A Country Divided by a Calendar
Elderly Man Charged with Sedition for Giving Flowers
Martial Court Frees Anti-Coup Activists
Junta to 'Monitor' Three-Day Anti-Coup March