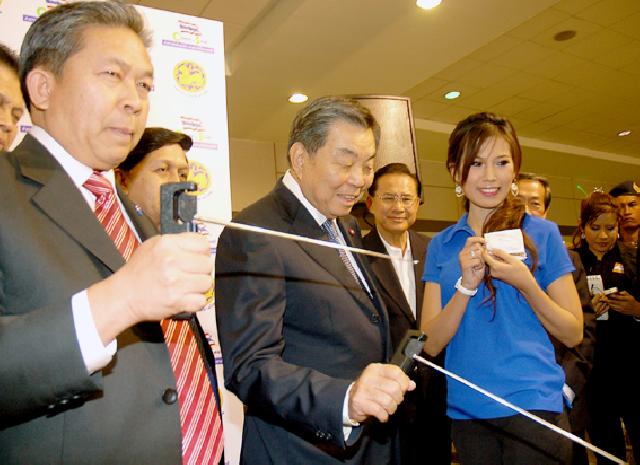 BANGKOK — The Office of Auditor-General said he wanted to give it another try in the effort to hold the authorities accountable for wasting millions of baht on bogus bomb detectors sold by a British conman.
Five years since it came to light that more than one billion baht was spent on fake devices, a renewed call to hold someone accountable has come days after a British court seized assets belonging to the Briton behind the international scam.
The government's auditor in chief says he has asked officials to look into the multi-million baht purchases again and see what can be done about it.
"I will also present this issue to the meeting at the Office of Public Sector Anti-Corruption Commission," Auditor-General Pisit Leelavachiropas told Isra News on Sunday.
From 2005 to 2009, British businessman James McCormick sold Thailand what he claimed were hand-held bomb detectors, devices called GT200. He also sold similar devices said to sniff out narcotics called Alpha 6.
The devices, which were later discovered to do nothing, for 900,000 baht to 1.2 million baht each. A total of 772 devices were purchased. When the deals were done, Thailand had spent more than 1 billion baht.
It later emerged that the "detectors" were nothing more than metal cylinders attached to a radio antennae that McCormick bought at USD$20 per device. A test staged by the government in 2011 found the devices as inaccurate, and security forces were ordered to stop using the equipment.
A British court in 2013 sent McCormick to prison for 10 years and this past Wednesday ordered his property seized. No one in Thailand was ever held accountable for using state funds to buy the bogus bomb detectors, and some officials continued to insist they were useful.
A 2013 inquiry by the Department of Special Investigation went nowhere, and just today deputy Defense Minister Prawit Wongsuwan insisted that the detectors indeed work "sometimes." He also welcomed the call for a new inquiry by the auditor-general, as he believes the military did nothing wrong.
"They're welcome to inspect it, because we sought out and bought the devices transparently," Gen. Prawit said.
Related stories:
Defender of Fake Bomb Detector Appointed Top Forensic Science Job
Army's 350 Mil Baht Airship Breaks Down Again After Re-launch
Fake Bomb Detectors in Attacked Pakistani Airport Used By Thai Army