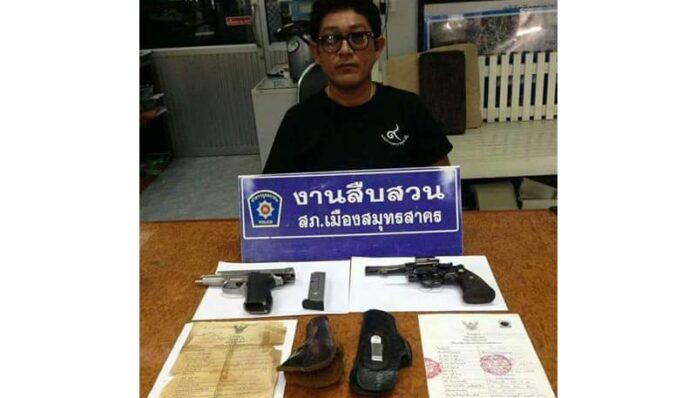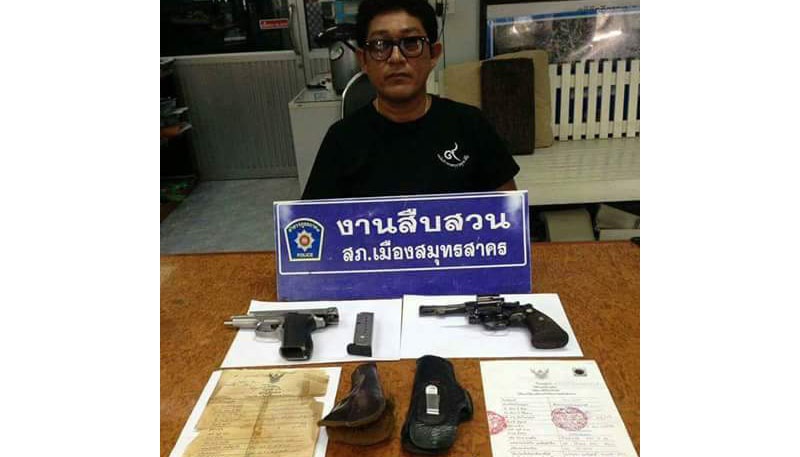 BANGKOK — Police on Friday detained a motorist who had threatened to kill anyone defaming the late King in a video online and said weapons-related charges could be filed against him.
Suchaet Muangsamut was arrested at his home in the Mahachai district of Samut Sakhon province at about 8am, according to Lt. Col. Pongsiri Kengnok, two days after he claimed to be looking for someone defaming the king to shoot.
Police said he would not be charged for making the threats but may face charges for unlawful possession of firearms, as the two handguns he was driving around with were not legally registered. He was still being questioned as of Friday afternoon
Pongsiri, deputy chief of Samut Sakhon city police, said Suchaet admitted to filming the 12-minute video showing him drive around with a portrait of the late King in his backseat and two handguns on the seat next to him, threatening to kill anyone he found insulting the late King.
"He had no intention to threaten anyone," Pongsiri said, adding that the threats made in the video were not explicit enough to warrant prosecution.
The officer said Suchaet was unlikely to pose a threat.
"I don't think so. I don't think he [would kill anyone]. I talked to him and he apologized," Pongsiri said.
Suchaet repeated his explanation made in the video that he was upset by comments people made online that he deemed as insulting King Bhumibol, he added.
As for the handguns, Pongsiri said it will take some time to verify if the registration documents produced by Suchaet were genuine.
In the video filmed Wednesday, an emotionally distraught Suchaet asked why some Thais didn't love the King or one another before saying he would drive around and kill anyone he encountered who insulted the late King.
"Why defame the King?… I feel like crying. If I see these foul-mouthed people, I will shoot em all. Damn!" Suchaet said in the clip.
Authorities have discouraged vigilantism and mob justice in cases of suspected royal defamation following the death of His Majesty on Oct. 13 while at the same time increasing efforts to crackdown on it.
Related stories:
Man Arrested for Insulting King, Possessing Marijuana