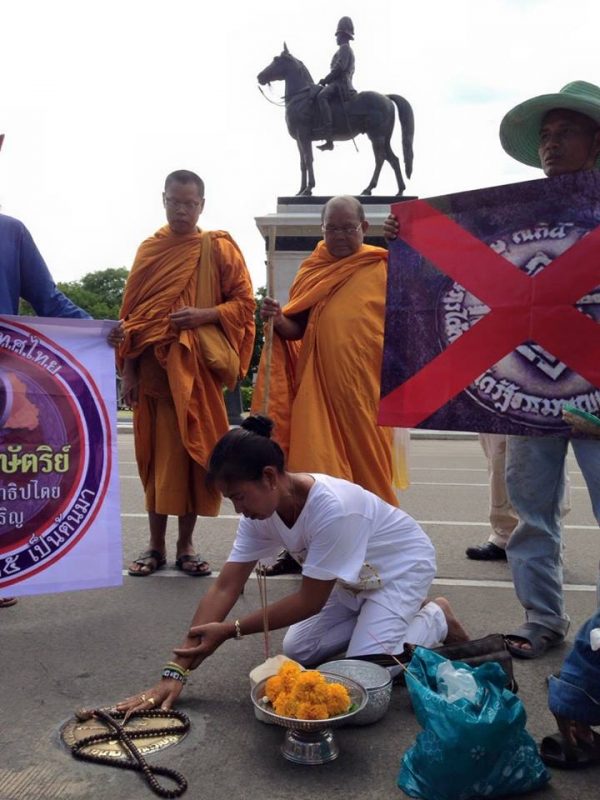 BANGKOK — Social media was abuzz Wednesday after an ultra-royalist threatened Monday to destroy the 1932 Revolution plaque located next to Rama V's equestrian statue.
User Thepmontri Limpaphayorm posted a photo of the plaque used to commemorate the location where the People's Party announced its revolutionary manifesto that converted Siam from absolute monarchy to democracy on June 2, 1932.
"Looking for the owner [of this plaque]. If you don't come dig it out by Dec. 30, my friends and I will consider that there's no owner. We will go remove or destroy it ourselves. If you want to keep it as a souvenir, quickly dig it out," the message read.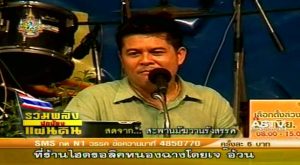 Thepmontri, who graduated with a degree in history from Thammasat University, is an independent historian who has written books such as "Peeling Back the Oct. 14 Scab: A Worm On The Face of Thai History," in reference to the popular revolt against military rule in 1973. He also gave speeches during Yellowshirt protests in 2011, and took a public stance against Cambodia in the Preah Vihear dispute.
While ultra-royalist netizens have voiced strong support for his threat, many others sharing the post decried his threat.
"I'm seeing lots of stuff about the People's Party on Facebook today. People are digging the bones of these bandits up from the grave to cause another revolt. Go ahead! Come on out! All the Thai people will beat you up with our feet," Orasa Suktadidtiworn wrote.
"I pass by this plaque often and never notice this plaque of un-fealty towards the nation. Let's call it a Revolt's plaque instead. If we're going to remove it, we have to pray to Mae Thoranee [Mother Earth] and ask for permission to dig it up or cover it," said Boonmee Zong.
Other users suggested it was an affront to Thai history.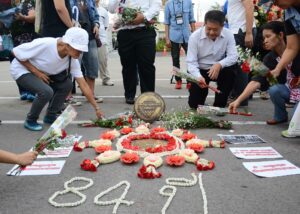 "Sonthi Limthongkul didn't dare do it. Soldiers didn't dare remove it, no matter from which era…[this person] doesn't understand the past or the future, and has no love for history…You ask who's the owner of this plaque? Thai citizens are, dammit!" a user called New Peace Globe wrote.
The People's Party plaque has been a contentious item in recent history. Some vandalized the small, simple plaque with sharp objects, while others have cleaned and laid flowers around it.