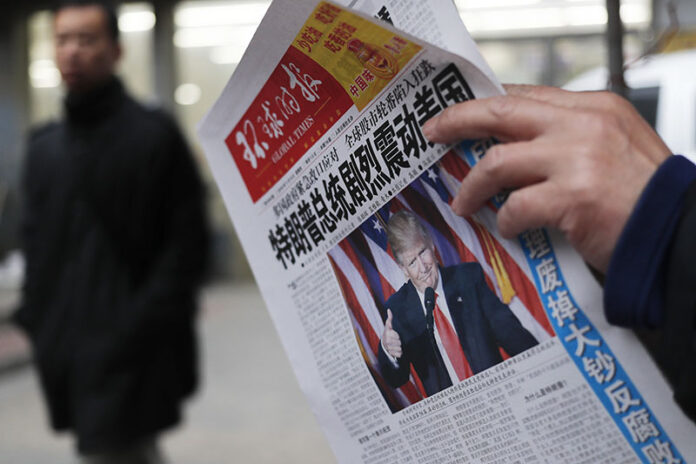 BANGKOK — Media outlets in East Asia scrambled Thursday to make sense of Donald Trump's surprise presidential victory.
A survey of media outlets found uncertainty whether to expect something negative coming to U.S.-Asia relations.
The following are excerpts from some of the media from China, Japan, South Korea and Singapore:
CHINA Anticipates "Sharpened Conflicts of Interests"
Global Times, an English-language Chinese newspaper closely align with the Communist Party expressed confidence in an unsigned editorial Wednesday that China is strong enough to handle the change, in fact the editorial was entitled, "China strong enough to cope with Trump victory."
It also described President-elect Trump, who has threatened both trade and combat wars against the world's No. 2 economy, in a less than flattering fashion.
"The new president lacks diplomatic experience. His much touted business experience will in some form penetrate future US foreign policy. In turn, Sino-US relations may see dramatic renegotiations, including sharpened conflicts of interests.
"Trump may be more interested in the new type of China-US relations than outgoing President Barack Obama, who was deeply influenced by Clinton. Trump may not be as strongly adverse to a "win-win" scenario with China as the previous US political establishment. Trump may have to cater to US elite groups, and he will try to be "tough enough" on China all the same."
The paper discounted fear of isolationism under Trump, however. "In an elite-controlled US, most of those holding power don't support Trump. And US allies across the world will pressure Washington to restrain Trump from isolationism."
The paper said China should safeguard its interests with its own strength should Trump make good on his campaign threats.
"If Trump wants to target bilateral trade, he should first weigh the consequences of China's countermeasures. The election will have a long-term impact on the US, as well as the world. But China is one of the quickest countries to adapt. China is able to cope with the leadership change of the US."
As for his election's bigger meaning, the editorial had this to say:
"He was known for being a blowhard and an egomaniac. But if such a person can be president, there is something wrong with the existing political order."
JAPAN Concerned About Alliance in 'Uncharted Waters'
"Uncharted waters," is how Japan Times' staff writer Ayako Mie described Trump's policy toward Japan and Asia Wednesday when it comes to security issues in "Trump and his policy in Asia remain an unknown for Japan."
"For Japan, a Trump presidency could mean more headaches, as he is new to politics, to say nothing of diplomatic expertise. In essence, the billionaire businessman represents uncharted waters, a situation that could undermine the Japan-U.S. alliance and upend regional security in Asia."
The writer noted it's unclear to what degree Trump understands the importance and role of his nation's alliances.
"Cooperating and coordinating with Asian nations is crucial in dealing with China's increasing assertiveness in the South and East China seas."
More specifically, she questioned whether Washington will continue to recognize Japan's claim to the disputed Senkaku Islands, administered by Japan but also claimed by China and Taiwan.
During the campaign, the billionaire who's long blamed Japan for creating a burden on the United States, said he would withdraw military support unless the World War II adversary paid for protection. He also said Japan, the only nation to be attacked with nuclear weapons, should obtain them to defend itself.
Mie cast doubt on whether Trump would demand Japan pay more for the continued presence U.S. troops.
The writer also noted that Tokyo "has not invested much in establishing a connection with the Trump camp," but said a special advisor to Prime Minister Shinzo Abe will be dispatched to the United States next week.
SOUTH KOREA Wants Full Control of its Troops
The Korea Times, an English-language newspaper based in Seoul, posted an article from wire service Yonhap News Agency examining whether a Trump presidency might speed negotiations for the transfer of control of South Korean troops during wartime.
Like Japan, South Korea should take care of itself, Trump said, by becoming a nuclear power.
In Thursday's piece "Trump may reduce US commitment to S. Korea's security," the media outlet cited a top expert's argument that Trump move forward with transferring wartime operational control of South Korean forces from Washington to Seoul in order to reduce American security burdens.
"South Korean handed over control of its forces to the U.S. during the 1950-1953 Korean War to defend against invading troops from North Korea. Peacetime control of its forces was returned in 1994, but the wartime control, known as OPCON, still rests with the U.S.," the paper noted, adding that it was agreed transfer date of 2007 was twice postponed – now indefinitely – in response to threats from North Korea.
The analysis by Yonhap speculated about how Trump would deal with North Korean dictator Kim Jong-un. Citing from Trump's book "The America We Deserve," Trump advocated a surgical strike against the North's nuclear facility before it's too late.
"Trump has also called the North's leader a 'madman,' a 'maniac' and a 'total nut job,' but he's also praised the young dictator, saying it is "amazing" for him to keep control of the country."
The article cited security expert Victor Cha, Korea chairman at the Center for Strategic and International Studies (CSIS) speculating on whether Trump might be willing to meet Kim in person.
"During the campaign, the president-elect has offered everything from a willingness to sit down with (North Korean leader) Kim Jong-un to putting the problem entirely in China's hands… It is possible that he could try to cut a grand bargain."
SINGAPORE Sees a 'Stunned and Worried' Asia
The Straits Times ran a commentary by Associate Editor Ravi Velloor. In "Shock result in US presidential election: Trump triumph a sign of the times," Velloor wrote Wednesday that Asia would have preferred Hillary Clinton.
"Asia would have preferred a more familiar figure in the White House. Mr. Trump's victory leaves most of the region stunned and worried, reflected in the crumbling financial markets.
"The alarm will be particularly severe in countries like Japan and South Korea, where the US security yoke will come immediately into question. Big nations like China and India have reason to be nervous about his anti-globalisation stands."
As for the trade impact on Singapore and its neighbors, Velloor had this to say:
"Vietnam, Malaysia and Singapore will be disappointed that the US elected a president who is so opposed to the Trans-Pacific Partnership trade agreement, the economic plank of Mr. Obama's Asia rebalance."