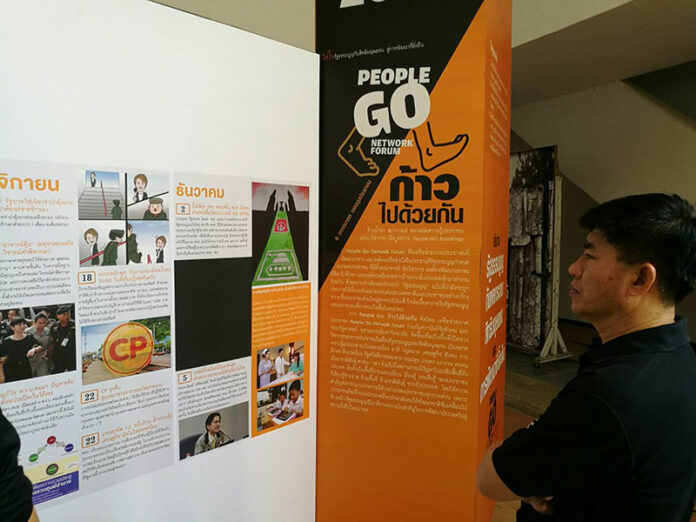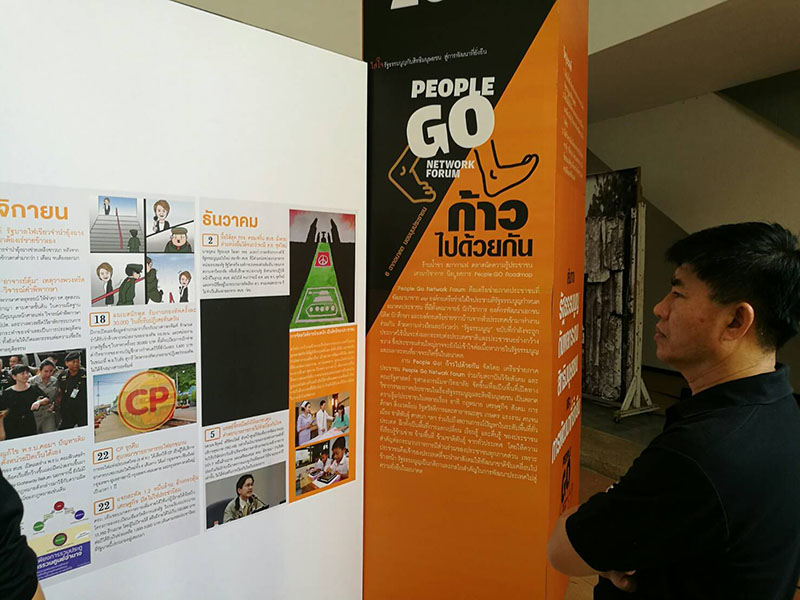 BANGKOK — On Constitution Day, a two-day conference and workshops on social issues went ahead Saturday with one notable exception: a panel on politics and democracy.
Hosted by Chulalongkorn University's Faculty of Political Science, which was pressured to drop the panel in question, 109 organizations participated in the People Go Network Forum, which otherwise went ahead as planned, though black paper was used covering portions of an informational display about lese majeste prosecutions.
Siriphorn Chaiphet of the Thai Volunteer Service Foundation said she was content most activities were allowed to proceed by the military regime and university, despite the last-minute cancelation of the panel under pressure from the university and authorities.
"We take a long-term view," she said at Saturday's conference, which addressed issues including politics, economics, education and the environment. "The struggle will continue for much longer.
It was the first semi-political event held since a year of national mourning was declared upon the death of His Majesty the Late King Bhumibol in October.
Siriphon said there's an urgent need to rally rural residents of different political alignments to fight on issues such as adverse impacts by the mining industry and more.
She said the military called the organizer Friday night asking for further details about the event.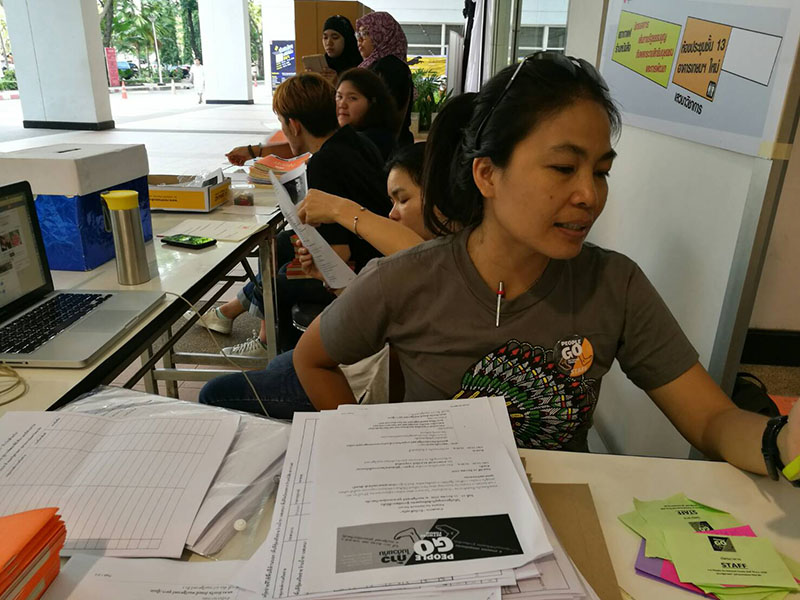 Of the canceled event organized by a student pro-democracy group opposed to military rule, she said compromise was inevitable.
"We can't do much under the circumstances. But the Faculty of Political Science has at least provided a space for civil society," Siriphorn said.
Members of the New Democracy Movement had planned to discuss the junta-sponsored charter passed under pressure in an August referendum.
Siriphon said they were just one the organizers among the network, some of whom are pro-democracy and others who are not.
Rangsiman Rome, a student leader of the New Democracy Movement, said he believed the Faculty of Political Science changed its mind after having earlier given a green light because it was afraid it would invite trouble for them.
The situation is such that there will be less space for political expression next year under the extended mourning period, according to Unusorn Unno, dean of Thammasat University's Sociology Faculty, who's involved in an academic civil rights group.
"The junta's men are also increasingly inserting themselves into institutional structures," he said of the appointment of three generals into the new Privy Council.
Anusorn said rural citizens facing various problems are unable to act because of the curbing of civil and political rights. He said there's a growing desperation, and  the situation is likely to become more severe.
Censorship was palpable over at an area of standing exhibition panels, where three issues were plastered over by black paper.
A source who asked not to be named due to the sensitivity of the situation said the three censored texts had to do with people prosecuted under the lese majeste law, including that of Jatupat "Pai" Boonpattararaksa, who was charged with defaming the monarchy for sharing an online biography of the new King produced by BBC Thai one week ago.
When the conference wraps Sunday, the network said it will release a declaration detailing its issues and demands.