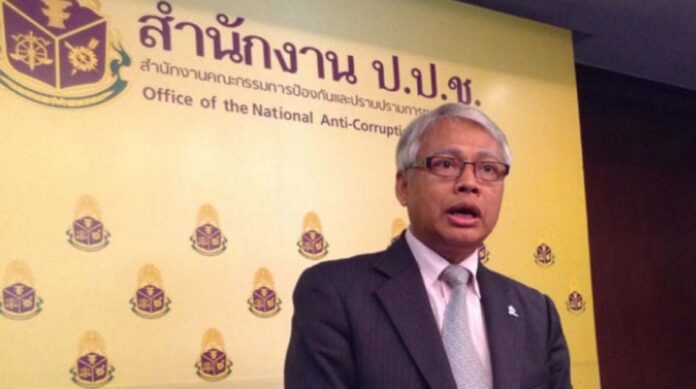 BANGKOK — The government's top corruption fighter Friday rejected Thailand's fall to 101st place in a world ranking of corruption by a German anti-corruption nonprofit.
The head of the National Anti-Corruption Commission said Thailand's sharp drop to 101 from 76 in Transparency International's annual ranking of perceived levels of corruption was "unfair" because it factored in the nation's departure from democracy.
"I want to ask them their reason for including this information about 'Varieties of Democracy' for the 2016 ranking. Is it fair to Thailand or not?" said Sansern Poljiak, commission secretary-general. "If they didn't factor in this information, we wouldn't have fallen so far."
For its analysis, the Berlin-based NGO factored in data from political science research at the University of Gothenburg and Kellogg Institute at the University of Notre Dame. The Varieties of Democracy project measured different aspects of democracies for a more complete picture of corruption, according to a University of Gothenburg paper.
The additional measures were included in a year the organization said it was concerned about the "connection between corruption and inequality" and rise of populism. Transparency International brought in Varieties of Democracy as a data source in addition to their other sources such as World Economic Forum and World Justice Project.
Sansern said that data's inclusion was "unanticipated."
Released Wednesday, the report found corruption on the rise throughout the world, particularly in Southeast Asia, where Cambodia and Thailand are named among declines in the Asia-Pacific region. The report calls out Thailand for "(g)overnment repression, lack of independent oversight, and the deterioration of rights."
Thailand fell 25 places to rank 101 out of 176, tying the nation with Gabon, Niger, Peru, the Philippines, Timor-Leste, Trinidad and Tobago.
Transparency International is a Berlin-based nonprofit founded in 1993 to combat corruption worldwide through research and reports such as the Corruption Perceptions Index.