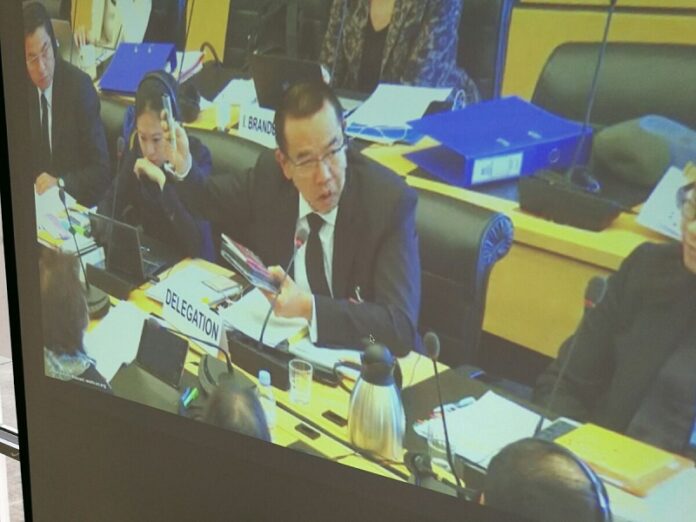 BANGKOK — The continued use of military courts in ongoing cases against civilians and the use of absolute power under Article 44 were among two major issues discussed during the two-day review of Thailand's human rights standards at the United Nations Human Rights Committee, or UNHRC, which concluded today in Geneva.
The Thai military government dispatched a delegation of 46 people including representatives of the military junta, formally known as the National Council for Peace and Order or NCPO, and vigorously defended its human rights records at the UNHRC meeting – however, rights activists at home were less than impressed.
Lingering Military Court
Although the junta ended the use of the military court against civilians last September, the order was not retroactive and 416 cases against civilians continued to be adjudicated by it. According to Thai Lawyers for Human Rights, an additional 500 civilians still faced arrest warrants before September last year and could also be put on trial at military court.
A representative of the Defense Ministry, under which the military court operates, tried to reassure the 18 human rights experts in Geneva reviewing Thailand's implementation of the International Covenant on Civil and Political Rights, or ICCPR, that there's nothing to worry about.
Lt. Gen. Krisna Bovornratanaraks, deputy judge advocate general, insisted the military court is independent and qualified to continue carrying out trials against the remaining civilians.
He said the human rights of the defendants are guaranteed and that judges have no lesser knowledge than judges in civilian courts.
"All [military] judges are also trained on human rights. The right to bail is also available," he told the experts in Geneva today, adding that requests for bail are handled on the same basis as civilian courts, and that trials can be observed.
Earlier on Monday, the regime representative pointed out that it would be inconvenient to transfer ongoing cases against civilians to ordinary courts of justice and claimed that there was no precedent. It was also argued that doing so may lead to prolonged, possibly repetitive trials.
The head of Thai Lawyers for Human Rights, Yaowalak Anupan, expressed differing views at a symposium organized in Bangkok by the UN Office of the High Commissioner for Human Rights, to observe the proceedings in Geneva today.
Yaowalak said the military court can't be regarded as independent since it is structurally under the Ministry of Defense and judges are all military officers – in contrast to courts of justice, which are not under the Ministry of Justice.
Yaowalak mentioned that in some lese majeste cases handled by military court since the 2014 coup, the trials prolonged themselves for a very long time when witnesses claimed they were unavailable. This, she said, led to some defendants pleading guilty so that the trial could be concluded.
Article 44 Defended
On Monday, Thai government representatives also defended the use of absolute power of junta leader Gen. Prayuth Chan-ocha despite calls by a number of civic and human rights organizations to repeal the law.
A shadow report published and submitted to the meeting by Paris-based International Federation for Human Rights, or IFDH, together with Bangkok-based legal reform advocacy group iLaw, noted that Article 44 is inconsistent with the country's obligation under the international political covenant. The two organizations urged Article 44 to be repealed.
Both the IFDH and iLaw said Article 44 gave junta leader Gen. Prayuth Chan-ocha, complete power to issue any order deemed necessary. It also noted that the power will continued to be legal until a new government is appointed after the next promised general election.
On Monday night, junta representative Col. Rangsarit Nakmuang, defended the existence and use of Article 44 by saying Thailand is still in transition period and such power was needed to push for reform and to overcome social division. He insisted that it's meant to be temporary.
It was also argued that Article 44 enable government to put an end to political violence and effectively restore peace to the kingdom. What's more, Rangsarit, a General Staff member Attached to the Directorate of Operations of the junta, stated that such absolute power existed in the past under 1959 and 1991 interim constitution. Rangsarit said it was no different from other constitutions that granted absolute power to maintain peace during war time.
On the controversial lese majeste law, a representative from the Ministry of Foreign Affairs insisted that defendants enjoy the same rights as those facing other criminal charges.
Military for Human Rights
Knowing that the military regime is being watched, Krisna said on Tuesday that military officers are being trained to be sensitive to human rights. He lifted an alleged field guide manual on human rights dos and don'ts for military officers for UN experts to see and said they carry this piece of paper with them.
"The Thai government has always considered human rights an important issue," he said, adding that basic human rights training has been incorporated into the military curriculum.
"Let me conclude: The more we train human rights, the less we violate human rights," Krisna said.