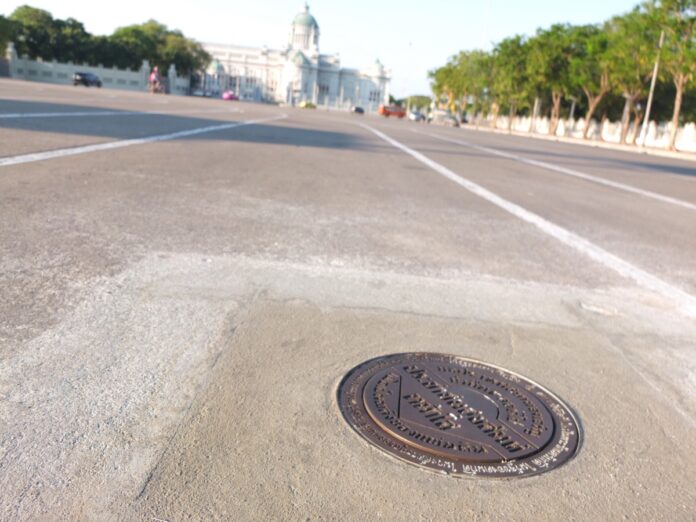 BANGKOK — City Hall officials Wednesday morning repeated claims it has no security camera footage to explain what happened to a historic marker which went missing earlier this month.
With the same explanation given to a Khaosod English reporter on Tuesday, Bangkok officials told a group of activists all 11 security cameras trained on the Royal Plaza had been removed just days before the 1932 revolution plaque was exhumed from the pavement.
However, a representative said City Hall did not order the cameras removed, but declined to say which agency was responsible.
Read: Authorities Respond to Questions About Missing Plaque With Arrests, Silence
"There was construction to improve traffic signaling, so the cameras were taken down," Yutthaphan Meechai, secretary to Bangkok's governor, said at a news conference.
Yutthaphan was meeting with two activists who visited the headquarters of the Bangkok Metropolitan Administration, or BMA, to demand footage that could have captured the moment the historic plaque was taken out.
The plaque, laid there in 1936 as a memorial to the bloodless revolution that installed democracy in Thailand four years earlier, was spotted missing last week. It had been replaced with a new, similar brass plaque bearing no reference to those who ushered in democracy. Instead it praised the monarchy and the public's duty to the king.
One of the two activists, Nuttaa Mahattana, said she was asking for an explanation on behalf of Thailand about the fate of an object that's not only state property but a historical artifact.
"The state is obligated to protect it," she said at a police station where she and her companion, Apisit Supnaphaphan, filed a complaint over the missing plaque.
But Yutthapan, the BMA official, said all 11 security cameras at the Royal Plaza have been removed since March 31 because of roadwork and rewiring of traffic signals in the area. The CCTVs were mounted on traffic lights so they had to be taken out, he said.
Yutthapan also said City Hall was only "informed" of the removal. He would not say who or which agency ordered the cameras uninstalled.
Upon hearing the explanation, Nuttaa asked how police could hope to investigate any potential crime that took place there without aid from the cameras. Yutthayapan replied that crimes are unlikely to happen there because of high presence of security officers about the Royal Plaza.
At this point a heckler in the crowd shouted that security cameras always seem useless when something important happens.
"You're only wasting taxpayers' money!" said the man, later identified as Ekachai Hongkangwan.
Silence and suppression
When the public and media first sought answers about the missing plaque, state officials responded with silence or denial of any involvement. Their tact has taken an aggressive turn in recent days.
A deputy police commissioner threatened legal action against any protest or symbolic gathering at the site of the former plaque, and on Tuesday night police even put up barricades around the new plaque, which denied access to the public. Reports on social media also claimed police ordered some onlookers to delete their photos of the new plaque.
On Tuesday, Srisuwan Janya, a prominent transparency activist, was detained by soldiers when he arrived at the government complaint center to demand answers about the plaque. He was later released without charge.
Nuttaa and Apisit initially planned to take the media to the Royal Plaza this morning and observe the new plaque, but police told them to abort the plan.
After leaving City Hall, Nuttaa made her way to the plaza on her own, ostensibly to pay respect to the nearby statue of King Rama V. A group of police officers observed her from afar but did not intervene.
Related stories:
Why Was the 1932 Revolution Plaque So Important?
Ultra-Royalists Threaten To Destroy 1932 Revolution Plaque
1932 Democratic Revolution Plaque Removed