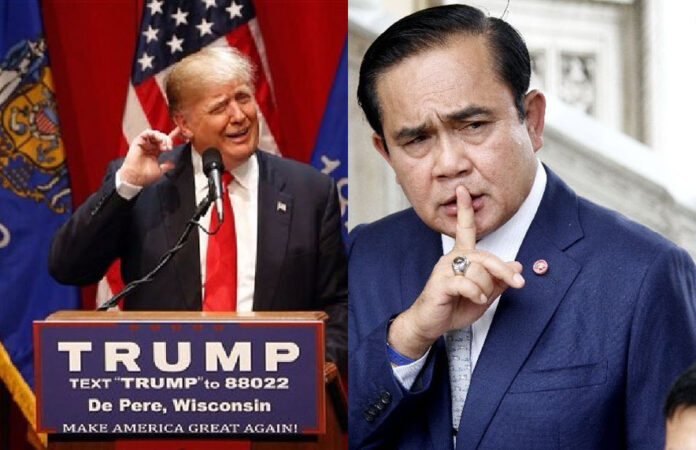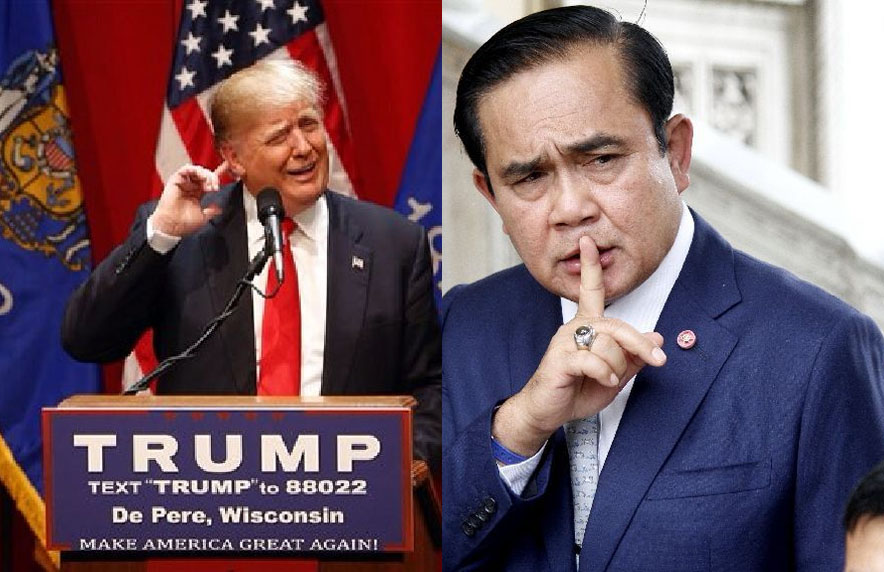 BANGKOK — President Donald Trump spoke to Prime Minister Prayuth Chan-ocha on Sunday and invited him to the White House, a Thai government spokesman said.
Prayuth took the call from Trump on Sunday night at the Government House, during which he expressed his commitment to enhance bilateral commitments between the two nations, Lt. Gen. Werachon Sukondhapatipak said.
"[Prayuth] expressed his appreciation to the president for his confidence in the Thai government and in Thailand," Werachon said.
Trump also extended the same invitation to Singaporean Prime Minister Lee Hsien Loong.
The call between Prayuth and Trump came one day after the U.S. president stunned many in Washington by inviting another authoritarian Southeast Asian leader, Philippine President Rodrigo Duterte, to visit the White House.
According to the New York Times, the calls were focused on the threat posed by North Korea, and sources in the White House said Trump called Duterte, Lee and Gen. Prayuth "after picking up signs that they felt neglected because of Trump's intense focus on China, Japan and tensions over North Korea."
In what was the first official conversation between Prayuth and Trump since the latter took office in late January, Prayuth congratulated the president on winning the election and his first 100 days in office. For his part, Trump offered his condolences on the passing of King Bhumibol.
Last month U.S. Vice President Mike Pence visited Jakarta on a brief tour of the Asia-Pacific region, visiting traditional allies that have enjoyed warming ties with Beijing. He signaled that Trump may join ASEAN's annual summit in the Philippines.
According to the Thai government spokesman, both Trump and Prayuth accepted their mutual invitations but did not set dates for either.
Relations between Thailand and the United States have chilled since the 2014 coup d'etat, as the Obama government raised concerns about the state of human rights under the junta. They reached a low mark in 2015 when U.S. ambassador Glyn Davies was investigated for remarks he made about the monarchy.
Trump has been criticized for his silence on human rights issues as he lavishes praise on dictators, such as telling Egyptian President Abdel Fattah Sisi, who took power in a coup and jailed thousands of his opponents, that he was doing a "fantastic job" last month.
Additional Reporting: Todd Ruiz