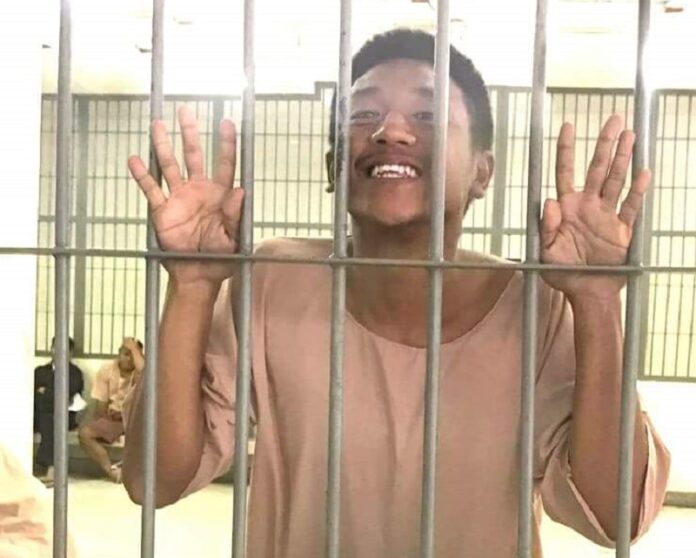 BANGKOK — An anti-junta student activist won the 2017 Gwangju Prize for Human Rights last month, becoming the second Thai to have ever done so.
Jatupat Boonpattaraksa, or Pai Dao Din, was informed about the result last month, for which the award ceremony is scheduled in less than two weeks, on May 18 in Gwangju, South Korea. However, the 26-year-old has been in prison since last last December for sharing a news item critical of the King written by BBC Thai on Facebook and has been repeatedly denied bail for the past 135 days.
"If unfortunately, though, you are not available for it, please inform us of someone who can be your surrogate for the occasion," wrote The May 18 Memorial Foundation's International Coordinator Inrae You, in an April to Jatupat. "But we do pray that you are freed soon enough so we see you in person here in Gwangju. If there is anything that we can do to make this happen, please let us know. We will be more than happy to assist you."
Viboon Boonpattaraksa, Jatupat's father, said his son has been notified of the award which comes with a gold medal and USD$50,000 cash prize.
"He was happy and said jokingly that he would like to come out [of prison] and travel to receive the award himself," Viboon said on the phone on Saturday.
In fact, Viboon and supporters of Jatupat have yet to give up hope. On Friday a group of activists submitted a letter from Viboon addressed to police chief Pol Gen. Chakthip Chaijinda in Bangkok, asking the top cop to reconsider dropping their recommendation to the criminal court to deny Jatupat bail.
The letter cited that the new constitution, which came into effect in April, and the right to bail should be recognized. His bail was revoked because police were upset that Jatupat complained on Facebook that the surety sum was high while the economy was bad. The letter also stated that Article 34 of the 2017 constitution guarantees freedom of expression.
"We just give it a try," said Viboon, adding that there had been no response so far from the police chief. "What police did by asking the court to revoke his bail wasn't right."
Repeated bail applications have been turned down on nine occasions by the Khon Kaen provincial court, Jatupat's father said, adding that the highest bail surety placed was 700,000 baht.
As for the award – being the second Thai since human rights activist Angkhana Neelapaijit received the same prize back in 2006 – Viboon said it wasn't a stroke of luck.
"It wasn't a fluke. Pai did all the work, including fighting for community rights," said Viboon on Saturday.
Viboon said the prize's money would be for Jatupat's future education abroad if he so desired. Jatupat is currently a fourth-year law student at Khon Kaen University but has one more subject to pass before graduating.
Jatupat faces a combined maximum imprisonment term of 20 years – 15 years for a lese majeste offence and five for violating the Computer Crime Act.
Pro-democracy activist Natta Mahattana, a prominent campaigner for Jatupat's release said she heard Jatupat tell his 17-year-old sister she could use the prize money to further her education abroad.
Natta was at the police headquarters on Friday. She said the award reflects global recognition of Jatupat's works.
"It's also a signal sent to the Thai regime regarding the call for democracy," she said.
The letter stated to Jatupat – who will join other laureates such as Myanmar's Aung San Suu Kyi (2004) and Timor Leste's Xanana Gusmao (2000) – that the selection committee "thought highly of [his] brave and noble actions against dictatorship and violations of human rights."
"We also noticed your struggles have aroused attention about political conditions and the importance of their improvement among your citizens, especially among the young and have contributed to bringing democracy to Thailand," the letter read.