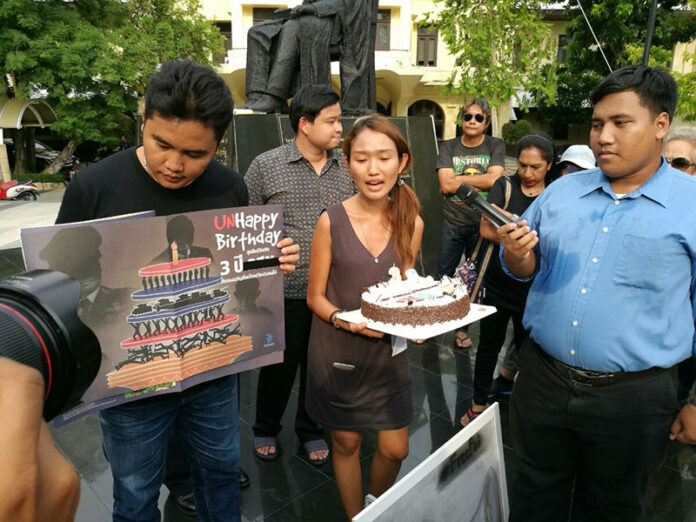 BANGKOK — How to talk about dictatorship, coups and military juntas when those doing the talking are banned from speaking those words?
This was not a hypothetical scenario Monday for the organizers of a two-day discussion marking the three-year anniversary of the May 22, 2014, military coup.
Chonticha Jangrew, a 24-year-old pro-democracy activist, said she was given the choice Sunday by a senior-ranking military officer speaking on behalf of the junta: Don't speak those words or risk having the event canceled.
Chonticha, a former member of the New Democracy Movement now affiliated with the newly established Democracy Restoration Group, relented.
So on Sunday, the first day of the symposium, speakers resorted to raising placards printed with the words instead. By Monday, things got more creative – and frank. Chaiyan Ratchakoon, a sociologist at Phayao University in the north, circumvented the ban Monday afternoon at Thammasat University by using alternative words.
He vowed not to speak the banned words only to replace them with synonyms. "Coup" became "illegal regime change."
"The illegal regime change in 2014 destroyed several things… Do we really want coercion by the use of guns? How will this differ from those who rob banks?" Chaiyan said.
Another speaker on Monday, Chulalongkorn University historian Suthachai Yimprasertm handled it differently. He just ignored it.
Suthichai said Thailand is the only country on earth today ruled by a military dictatorship. He said the junta leaders grew up during the Cold War and still cling to that mentality. He said no one believes the promises of junta leader Gen. Prayuth Chan-ocha, who keeps postponing promised elections.
Suthachai said trying to ban the use of some words was "mafia-like."
"That's not going to work," he said. "This reflects how backward and mafia-like they are."
Pictures of Sunday's speakers holding placards containing words like "military coup" and "NCPO" have already spread on social media.
Junta Rules, Junta's Rules
Three years on, speaker Piyarat Chongthep argued, the rule of law has been replaced by whatever the junta dictates or argues, creating confusion over what is allowed.
"We're in a realm that we don't quite know what's permissible and what's not," said Piyarat, president of the For Friends Association, a group which assists political and lese majeste detainees. "This is a situation where the ceiling is getting lower."
Kornkot Saengyenpan, also of the Democracy Restoration Group and Monday's last speaker, tried to rally the 60 people in attendance. He ignored the ban and used the three words.
Monday's discussion held inside an air-conditioned room at a university was telling in itself. In 2015, students were violently dragged away from protests outside the Bangkok Art and Culture Centre. For 2016, several hundred activists marched through Bangkok to rally at the Democracy Monument.
No open dissent could be found on the streets Monday for the third anniversary.
"Dictators try to make us accustomed to whatever they impose, but only with limited success. We must do whatever it takes to not get used to Prayuth's lies," said Kornkot, referring to the repeated postponement of elections. "They have to go, not next year but now! We have waited for three years, and they can't make us get accustomed to [military rule]."
Of the 60 people attending Monday's event, Chonticha said she believed about 15 were plainclothes soldiers and police recording and observing.
Earlier Monday, a group of academics calling themselves the Academic Network for Civil Rights issued a statement saying three years of military rule have been a failure.
After the event, Chonticha and pro-democracy leader Sirawith "Ja New" Seritiwat led people to Thammasat's Pridi Banomyong lawn to mark the occasion and blow candles out on a submarine-shaped cake. They called for elections as soon as possible.