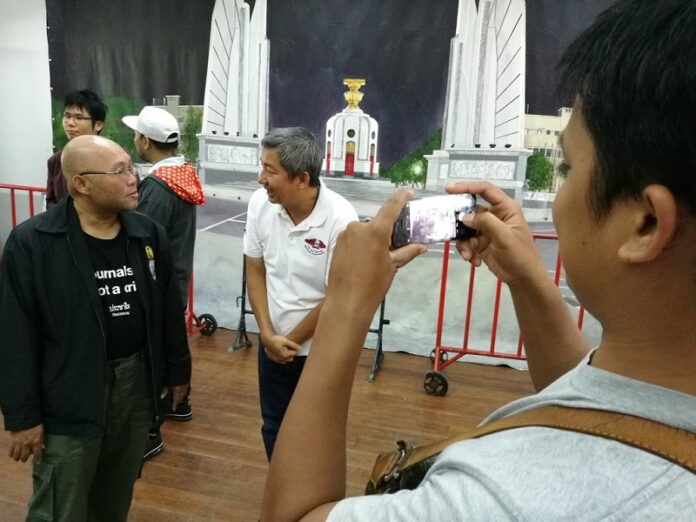 BANGKOK — The struggle for democracy is far from over 85 years after a revolt brought and end to absolute monarchy, historians and political scientists said Friday.
At a discussion at Chulalongkorn University's Political Science Department on the state of Thai democracy 85 years on from the June 24, 1932, revolt, speakers said the struggle continues between pro- and anti-democratic forces.
While the usual observances which usually takes place today where the revolt symbolically began with a speech were banned by the authorities, several discussions took place in an academic context.
Chulalongkorn University historian Suthachai Yimprasert said some Thais continue to doubt, eight and a half decades on, whether Thailand is suited for democracy.
Suthachai said pro-junta conservatives believe, like those opposing the "Promoters" who led the revolt in 1932, that Thais are neither ready for democracy nor suited for it.
"They think a military junta is more legitimate than a democratic system," Suthachai said, adding that this is due to their perception that all politicians are corrupt and self-serving.
"Eighty-five years on, they think [people] are not ready for democracy. The Promoters have been accused of pushing for change before the time was right and bringing about corrupt politicians."
Prior to the symposium, organizers were told by police not to address the question of who in April removed the Revolution Plaque which commemorated the June 24 revolt. The moderator, Chulalongkorn University political scientist Pitch Pongsawat, warned the audience to do so at their own peril.
The military regime's uneasiness over the history of June 24 underscores the unsettled struggle between the old, established guard and new democratic forces, said political scientist Kullada Kesboonchoo Mead.
"We must reinforce the new, give it more strength and a role," Kullada said. Although few people were involved in the 1932 revolt, Kualla added, it marked the beginning of democratic struggle. Today, she added, the pro-democracy camp has a much broader base.
Not all were optimistic about democratic aspirations, however. Thammasat historian Thanet Apornsuwan said that Thailand has failed to normalize its modern institutions that are necessary for democratic transition, such as the judiciary and others that have failed to democratize. Thanet said Thai history, like much of the rest of Southeast Asia, is not linear but cyclical in it trajectory, swinging through elected administrations and military junta.
More upbeat was political scientist Kanokrat Lertchoosakul, who compared it to France, saying that nation went through much worse in the 85 years following its revolution. Kanokrat said France, after 1789, experienced a struggle and re-struggle between conservatives and democratic forces and much more bloodshed compared to Thailand. It even saw the monarchy restored before becoming the democratic bastion it is today.
"The development [in France] wasn't linear, and it swung really hard. This helps us better understand ourselves," Kanokrat said. She warned that pro-democracy Thais should recognize that the struggle for democracy is a life-long mission, while conservatives should learn the concept of co-habitation as eliminating those who think otherwise is next to impossible.