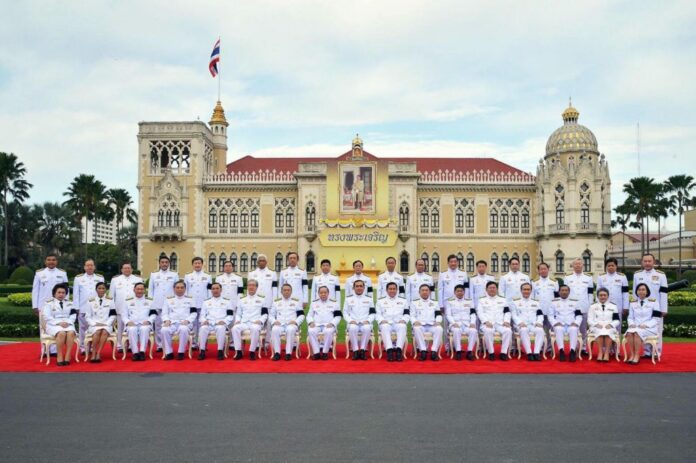 BANGKOK — Thailand's delegation to a UN review on gender equality on Wednesday promoted progress made in the kingdom, though women remain little represented in positions of power.
While Thai representatives stressed better prosecution of sexual violence and conditions of incarceration, a UN expert on the Committee on the Elimination of All Forms of Discrimination Against Women, or CEDAW, pointed out the military junta – which staged the coup and rules the nation – are all men.
"This government is a junta. It is a government composed only of men. At least up to the moment. Well if Thai parliament exist all its members have been politically appointed by the junta. This set up in effect an environment where participatory democracy may not seem to exist," Rosario Manalo, rapporteur of the 23-member committee, said, appearing however to confuse the military government with the junta – which does have women among its members.
Manalo started Wednesday's two-hour session in Geneva by pointing out that Thailand is run by a junta "composed only of men" and added that other appointed bodies are selected by this men-only junta as well. Manalo said that Thailand had made progress in ensuring there exists a broader interpretation of sexual assault and rape as well as an improvement of conditions inside prisond for female inmates.
Napa Setthakorn of the Social Development and Human Security Ministry headed the 31-strong Thai delegation. But spending the most time defending Thailand's gender rights record and answering questions was Juree Vichit-vadakan.
Juree is one of only three women who serve on a 24-member government committee promoting the advancement of women.
Juree cited many examples of progress made in the decade since the last CEDAW review in 2006, but acknowledged shortcomings when it came to women in politics.
"Politics, particularly, is an area where we need to improve," Juree said to Manalo and other international experts.
Juree cited a higher ratio of women in higher education, the existence of a women's empowerment fund and the passage of the 2015 Gender Equality Bill by the mostly male junta-appointed National Legislative Assembly.
"There is still disparity in top [corporate] management. There are more male presidents than women presidents," Juree said.
An alternative and unofficial "shadow" report released Monday by several international groups argued that gender equality has suffered under military rule. The report, written by four NGOs including the Observatory for the Protection for the Protection of Human Rights Defenders and the Asia Pacific Forum on Women, Law and Development cited low inclusion of women on junta-appointed bodies and  discriminatory language used against women rights defenders.
Less Women in Decision Making Bodies
The shadow report entitled "In Harm's Way: Women human rights defenders in Thailand" notes the low number of women in the junta's appointed bodies including the National Legislative Assembly – of which only 4 percent of members are women and the Constitution Drafting Committee, where only three out of 24 are women. It also stressed that there is not a single woman in the National Council for Peace and Order, or NCPO.
"Since May 2014, the NCPO has institutionalized a system whereby the ruling junta – whose members are all men – directly appoints members, most of whom are also men, to the executive and legislative bodies. Women account for only 4 percent (11 out of 250) of National Legislative Assembly members, 11 percent (four out of 36) of Cabinet members, percent (17 out of 200) of National Reform Steering Assembly (NRSA) members, and 13 percent (three out of 24) of Constitution Drafting Committee (CDC) members."
What's more, the shadow report points out that Thailand's new constitution – which came into effect on April 6 – fails to ensure that women have the right "to participate in the formulation of government policy and the implementation thereof and to hold public office and perform all public functions at all levels of government," in accordance with Article 7(b) of the CEDAW.
The report criticized the lack of transparency in the process to appoint legislative and executive bodies which it said led to the reduced number of women in politics and predicted a continuation of the trend when it came to the appointment of senators.
Under the constitution, the 250-member senate for the first 5 years will be selected by the junta, indirectly or indirectly. The report noted that there exists no gender-based quota system for the senate as requested by the CEDAW in 2006 – the last time Thailand was put up for review.
The Thai government was quoted in the report as having stated that Thailand had been trying to "promote the balance of male and female ratio in political participation," at the local administrative level. The report said the Thai government noted that a proposal to include a provision determining an equal quota for men and women in the Draft Tambon Council and Tambon Administrative Organization Act was not accepted due to questions raised over the issue of reverse discrimination and differential treatment based on gender.
This justification, said the report, is contrary to Article 4(1) of the CEDAW, which states that "temporary special measures aimed at accelerating de facto equality between men and women shall not be considered discrimination." It added that it was also against CEDAW General Recommendation No. 23, which states that the convention "encourages the use of temporary special measures in order to give full effect on political and public life."
In Geneva, other official delegation members took turns stressing Thailand's other achievements. Police Maj Gen. Kriboon Suadsong, commissioner of the Office of Police Strategy, told CEDAW foreign experts that there had been a marked improvement in the recruitment of female police officer since 2009.
Kriboon said since 2009, the Royal Police Cadet ha recruited 70 female students each school year and that 670 women students have since graduated.
"There are more police general than ever," said Kriboon, adding that the number stands at 17 woman police generals out of 507 male police generals. "Compared to the past, this is considered big progress. Promotion is based on their abilities and not their gender."
Women Opposing Junta Face Threats
One CEDAW expert raised the issue of cyberbullying against women human rights defenders as well as the restriction of freedom of expression and political assembly under the junta, which affects both men and women.
The use of sexually-charged language against women human rights defenders and women opposing the military regime was noted in the same shadow report.
Waewrin Buangern, a rural community-based environmental activist and coordinator of the Rak Ban Haeng conservation group in Lampang province, has been a target of intimidation and harassment since the group participated in the "Walk for Land Reform" in Chiang Mai in November 2014.
"Waewrin was summoned by military personnel, along with 10 other villagers, for attitude adjustment at Patoupah Special Military Training Facility, where she was reportedly told by a high-ranking military officer, "You know we can make anyone disappear." The officer allegedly used gender-specific verbal attacks against her by saying she would "never be able to find a husband."
The report also cited the cases of anti-junta activists Chonticha Jaeng-rew as earlier reported by Khaosod English.
"According to Ms. Chonticha, one police officer made sexual remarks about her. Another police officer sent her a text message wishing her a 'Happy Valentine's Day'," the report stated.
Failure to protect Women Human Rights Defenders
The report claims the Thai government has failed to ensure that women human rights activists are able to access justice and receive protection from harassment, threats, retaliation and violence under the military regime.
"There is unwillingness on the part of the authorities to adequately investigate and prosecute cases of abuses," the report said in reference to the activists. "Remedies are either difficult to access or inadequate, and accountability and protection mechanisms within the law enforcement and justice system are lacking."
It made recommendations including a call for the the Thai government to ensure authorities protect all rights activists from "harassment, threats, retaliation, and violence, both online and offline, by establishing an impartial, independent, civilian body tasked with investigating complaints filed against law enforcement officials, and ensuring perpetrators of such acts are brought to justice."
Official Report Stresses Progress Made
Besides the verbal communication made by the Thai delegation in Geneva, Thailand submitted a 35-page report to CEDAW in which it said it had made serious efforts to promote gender equality over the past decade.
It said it had taken steps to change the penal code criminalizing marital rape and had made amendments to laws concerning the right to change one's title and family name, adding that there had also been an increase in gender-sensitizing programmes.
However, the report also acknowledged challenges.
"[A] number of challenges remain, including traditional attitudes and stereotypes, comprehensive sex-disaggregated data, and low participation of women in politics and decision-making positions. Thailand fully recognizes these challenges and is determined to address them, taking all possible legislative and practical measures," it said.