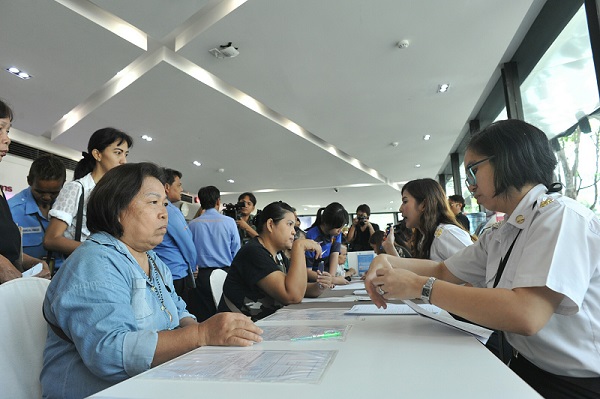 BANGKOK — More than half a million people who registered for the government's welfare program did not meet the requirements, authorities said Thursday.
Of 14 million people who registered for the program aimed at supporting low-income workers, 700,000 were found to be ineligible because they earned or possessed assets greater than those allowed, said Krisada Chinavicharana, director-general of the Fiscal Policy Office.
Read: Confusion Over Benefits as Poorest Thais Register for Junta Welfare
To qualify, applicants must not have over 100,000 baht – either in the bank or bonds. They must live in homes smaller than 100sqm or multi-family housing of less than 35sqm.
Landowners cannot possess more than 1 rai (1,600sqm) or 10 rai of farmland.
"We will dispatch 70,000 college students we hired to survey the information of those registered," Krisada told a local news agency.
The government spent 971 million baht to hire students to observe the livelihoods of the 14 million people who applied to the program. Officials said it would help the government deliver help that fits those in real need.
Krisada said the survey is due to finish by August as the welfare program will commence in October.
About 8.3 million people joined the program last year, 7.5 million of which were considered eligible. They were given two cash installments of 1,500 baht and 3,000 baht, depending on their income.
However, the government announced that help this year would not come in the form of money but utility and transportation subsidies in the form of discounts and free bus rides. Other programs are yet to be announced.
Related stories:
Confusion Over Benefits as Poorest Thais Register for Junta Welfare
Final Extension of Free Bus And Train Service?
Stricter Junta Welfare Program Unclear on Benefits