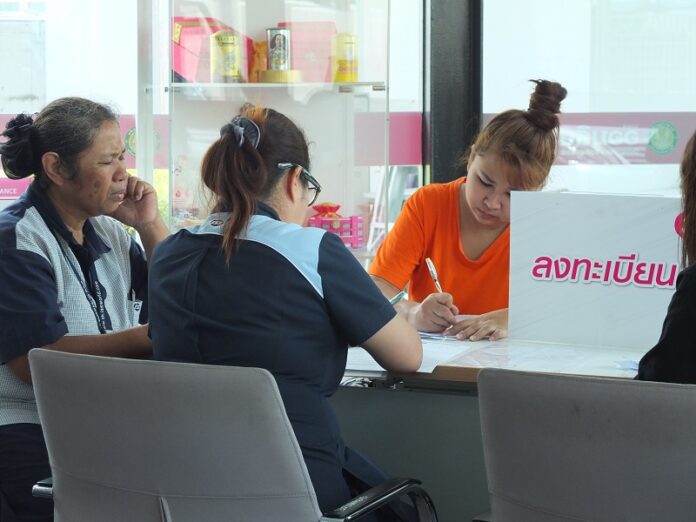 BANGKOK — Asked why she has waited until the last day to register for the junta's welfare program for the lowest-income Thais, Sophawadee Phuipin laughed as she offered a timid answer.
"I didn't have money to open a bank account," the 45-year-old mother of two said.
Sophawadee was among many who went to the headquarters of the Government Savings Bank, or GSB, in Bangkok Monday as it was the last chance for the poorest in Thailand to register in order to receive government assistance.
Though registration has been open for over a month, the program's actual benefits remain unclear. Officials have yet to announce whether it will offer direct cash assistance as it did last year. The military government has said instead of giving money, it will issue "welfare cards" for those who register that can be used to subsidize daily living expenses with free bus rides and discounted electricity bills.
Although a bank employee said it was unnecessary to answer the part of the registration form asking for a "bank account to receive government welfare," those registering could not get a clear answer on how they could receive any future payouts. So many ended up opening new accounts in hope of receiving their subsidy quickly.
Read: Stricter Junta Welfare Program Unclear on Benefits
The GSB website said its minimum balance to open an account without fee was 1 baht. Staff at GSB headquarters today said the minimum was 200 baht.
Both staff and the website, however, agreed that if there is no activity in an account holding under 500 baht for a year, the bank will charge a 20 baht monthly fee.
Sophawadee, the seamstress who said she earns less than 10,000 baht some months, ended up opening a new account today.
"I don't know what will I get," she said. "I just give it a try."
Benefits Unclear
Without a clear idea of how the second round of their welfare program will be handled, the military government already has two figures ready to tout.
One was how much will be set aside for the program. The interim cabinet on Tuesday approved 50 billion baht to support the program, which it said will improve the lives of those in need.
The other number was an increase in the number of people who registered, which government spokesman Sansern Kaewkamnerd said Saturday reflects trust in the military government.
The number of people to register since registration began April 3 through Thursday reached more than 12 million people and growing, an increase of four million over last year.
"It is believed that people trust the government will really take care of their welfare," Sansern said.
In order to qualify for the program, one must be a Thai national, at least 18, earn under 100,000 baht annually and not possess over 100,000 baht in assets. Those who own land cannot own more than 1 rai (1,600sqm). If it is farmland, it must not exceed 10 rai (16,000sqm).
They must also be willing to share all their financial information with the government, including details on outstanding debts.
Last year, the government made two cash payouts to more than 7.5 million people. Each was 3,000 baht for those earning less than 30,000 baht per year, and 1,500 baht for those with annual incomes under 100,000 baht per year.
For the second round, they said the purpose was to create an in-depth database and issue cards to direct benefits only to those in need and prevent abuse by those who don't.
Services to be limited only to those who register include free bus and train tickets.
In October, the existing free services will be terminated, and only card-holding welfare beneficiaries will get free rides.
At the bank, Sophawadee said she was a fan of the free bus service as travel costs were one of her major expenses.
"I spent 40 to 50 baht for round trips to send my daughters to school," said the woman, who said she only eats one meal per day to save for her children. "I rarely go out myself. I sew at home."
The Sakon Nakhon native said she did not know yet whether her two daughters would be able to receive rides as her dependents under the revised program.
Accompanying her husband to the bank today was Charoen Phumpan. The 62-year-old woman said she benefited from the 3,000 baht payouts last year and still preferred cash, as she was unlikely to benefit from the proposed discounted utility bills.
"I rent a home. The electricity and water fees are already included as a fixed cost in the rent," Charoen said. "I don't have a separate electricity meter. So I don't know how I could use it."
Related stories:
Final Extension of Free Bus And Train Service?
Stricter Junta Welfare Program Unclear on Benefits