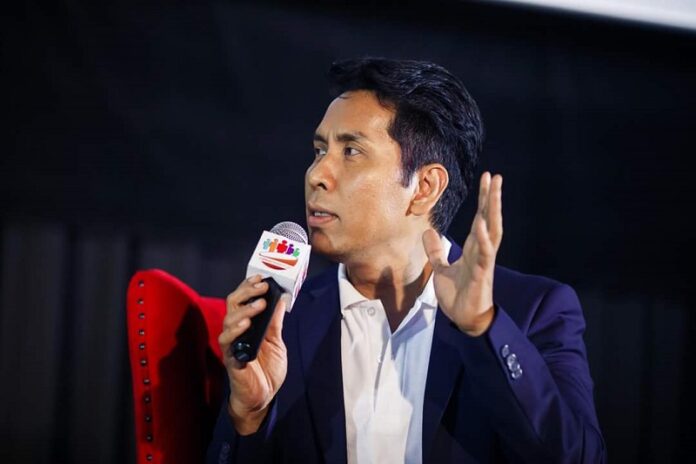 BANGKOK — A fugitive anti-junta journalist said Thursday that he had obtained asylum seeker-status in the United States.
Broadcast journalist Jom Petchpradab said he obtained the status three years after he fled Thailand in the aftermath of the May 2014 coup after refusing to report to the military.
Asked whether such developments would affect the standing of the junta, spokesman Col. Winthai Suvari said he had no opinion.
"I don't talk about views on foreign affairs," he said.
Jom said through private messages on Thursday that he had been granted the status June 27, which gives him almost equal rights and benefits to those holding a Green Card. The application process for obtaining a Green Card – which will enable him to take up permanent residency in the United States – will take four months.
For the past three years, Jom, who lives in California, has produced YouTube videos on sensitive political issues, earning about USD$200 dollars per month from them and relying on other private donations to sustain his livelihood.
"I have two feelings. First, I feel something in my heart is lost, as my status as a Thai citizen is diminishing. My second feeling is I feel relieved about my existence [in the United States] particularly on Medicare in the sense that I would be treated like an American. Allow me to thank the government of the United States for its loving kindness. Although it took a long time, I understand since many people from around the world want this status."
Jom, 55, feared he could be charged not only with refusal to report under the junta's summon, but also with royal defamation charges if he returns to Thailand. Under junta Order Number 41/2014, not complying with a summon carries a prison sentence term of up to two years or a fines of up to 40,000 bahts – or both. The royal defamation, or lese majeste, law carries a maximum imprisonment term of 15 years.  Despite all these, Jom said he hopes he will one day be able to return to the kingdom.
"I had to flee because of the merciless Thai dictator who repressed those who think differently or seek to exercise their rights as citizens or partake in politics," said Jom, 55, who worked for various television stations including Channel 11 as well as Voice TV prior to his self-imposed exile in the aftermath of the coup.
A well-known television journalist prior to fleeing, Jom continues to produce timely interviews on YouTube for Thai audience at home, forgoing self-censorship and censorship practiced by most journalists, particularly broadcast journalist in Thailand today.
"I hope to create a force for change in a hopeful way," said Jom, now based in Los Angeles.
When asked about Thai press since the coup, Jom mince no words in his assessment.
"It's disappointing to see the Thai media's fears and how they overly submit themselves to dictatorial power. Not that they have to rise up and lead a movement to oust the dictatorial regime of the NCPO as they did [campaigned] to oust an elected government. But at least they should unite to oppose the use of unjust and corrupt power and the treatment of people as if they were not citizens," said Jom, adding that Thai media only conveniently cited people when they faced the threat of control from the proposed media reform bill. "These things substantially diminished the pride I used to have as a journalist. And this is another major reasons I sought refuge in a foreign land."
Reached for comment to verify Jom's status and if the development had any political implication, the United States embassy said it could not disclose information.
"Confidentiality provisions do not allow us to comment on individual asylum cases, or even on whether an individual has or has not applied for, or been granted asylum," embassy spokesperson Melissa A. Sweeney said Thursday by email.
Jom's followed an earlier announcement by fugitive former Redshirt Jaran Ditapichai in which he said he had obtained French nationality last month.
Jaran, 69, announced on June 29 that he was granted French citizenship. He posted on Facebook on July 5 that this will likely be his final battle for democracy in a "foreign ground."
"My feeling is of greater happiness and sorrow. Although my ideology has been reduced from communism to democracy and republicanism, but I am still confident in the basic decencies of people and humanity like before," said Jaran, who added that he still holds dual nationality.