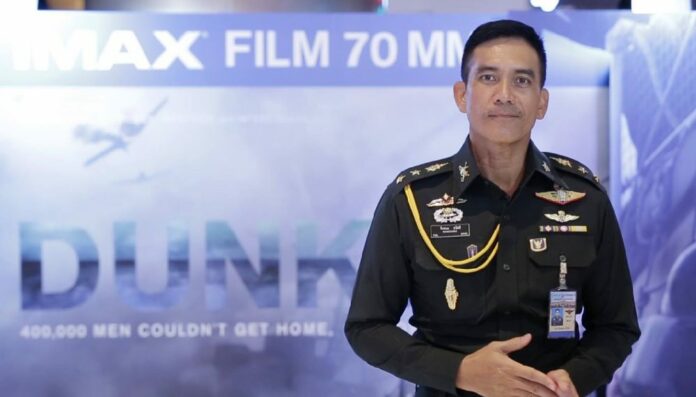 BANGKOK — Thanks to a special deal from the biggest cinema chain, members of the armed forces can watch blockbuster war film "Dunkirk" at a discounted price of 100 baht.
The campaign was announced Wednesday by Major Cineplex, the same day Christopher Nolan's war epic premiered in Thailand. The chain cited no reason for the deal, which drew criticism from those who believe the military is already one of the most privileged institutions in the country.
A special screening was also held Wednesday for high-ranking military officers. Those attending included Wanchana Sawatdee, the army colonel who starred as King Naresuan in a historical nationalist drama co-produced by the armed forces.
In a video published by Major Cineplex, an unnamed soldier said he wants people to watch the film so they know how much sacrifice soldiers make for their country.
"I want people to come see this film and see the suffering of soldiers," he said. "Some people may think soldiers have it easy, but it's not true."
Another unnamed army officer said the film – which is based on Britain's united effort to rescue troops stranded on the beaches of Dunkirk in 1941 – would teach people about patriotism and unity.
"Apart from entertainment, it gives you valuable thoughts," he said. "Love for one's country and unity can overcome crises."
Army spokesman Winthai Suvaree said he wasn't aware of the armed forces' involvement in the discount campaign.
Members of the armed forces can watch the film for 100 baht today through Saturday, according to the cinema chain website. The original price for a normal seat at Siam Paragon's branch of Major Cineplex is 270 baht.
Some on social media questioned why the armed forces were eligible for a discount.
"Usually, these people already have it easy, and now they get even more privilege," Thananan Warasittikul wrote on Major Cineplex's Facebook page.
"I want the army to take draftees and low-ranking soldiers to the see the films, too," another user, Natiphan Somjit, wrote in a thread. "It wouldn't be too much of a waste of the army's budget, right?"
Related stories:
Badly Translated Poster Gives 'Dunkirk' Darker Ending