As a young lad in the '80s attending a Catholic school, one of my favorite pastimes was lunchtime, carving upside-down crosses into church doors while humming The Sex Pistols' "Anarchy in the UK." Needless to say, I was heavily into punk and metal in my rebellious junior high school years.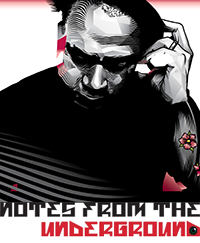 This week we'll set aside the usual late-night grooving, dope beats and big bass lines in favor of moshing, headbanging and throwing the horns to grindcore and black metal, with a bit of breakcore and gabber thrown in for good measure.
Albeit small, Bangkok's hardcore, punk and black metal scene has grown into a tight-knit community with its own bands, venues and fanzines.
"Metal, hardcore, thrash in Thailand is quite a small scene. Many years ago there were a lot kids getting into the music in the hundreds, but it's even smaller now because everyone wants to follow their own subgenre," said scene veteran Saranpong Sookpanon aka Yos, who edits independent rock mag Blast. "But the death metal scene has always had a small but very loyal following."
In 2014, death metal band Surrender of Divinity made international headlines when lead singer Avaejee was stabbed to death at his own home by a crazed fan. The fan, Prakarn Harnphanbusakorn, said he did it because Avaejee had tarnished the image of Satanism. In a conservative country with a tabloid media, the incident put the scene in a negative light.
"The media were interested in the events of the murder, but they were never interested in our music," Yos said. "The scene's always been a DIY thing since it began over 20 years ago."
Controversy aside, if you want a taste of Bangkok metal, here are some of my picks for this month.
Friday
Sick Fast Raw Party –  Soy Sauce Factory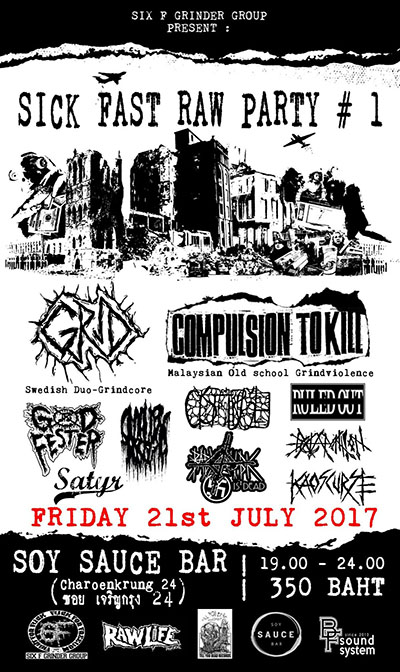 Grindcore combines elements of punk, metal and industrial. The genre has earned a rep for its down tunes, distorted guitars and fast tempos. This Saturday, Swedish grindcore duo Fredrik Larson and Andreas Backstrom, or Grid, are stopping in Bangkok for a show at Soy Sauce Bar. This year they dropped a new EP, "Human Collapse Syndrome." They'll be joined by Malaysian grindcore band Compulsion to Kill and a full lineup of local acts.
Tickets are 350 baht. The event runs 6pm to 11:30pm on Friday at The Soy Sauce Bar, located at Soy Sauce Factory.
Saturday
Angelcorpse "Exterminate Bangkok" – Hollywood Awards Ratchada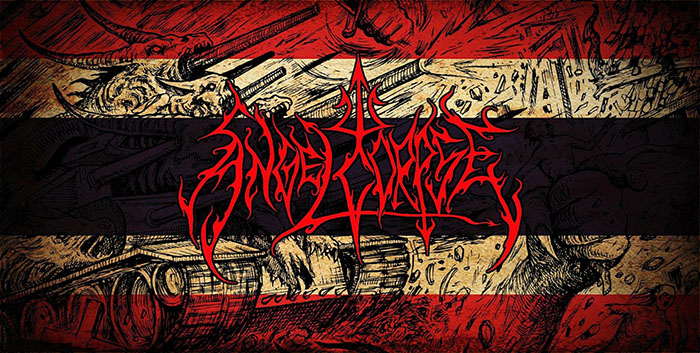 American blackened death metal band Angelcorpse released their debut album "Hammer of Gods" in 1996. Since then they've released four critically acclaimed albums, their last album "Of Lucifer and Lightning" was released in 2007. After going separate ways the band regrouped in 2015 and at present are touring with their original lead singer Pete Helmkamp. This weekend the band's Thai fans eagerly await for Angelcorpse to throw down on stage at Hollywood Awards in Ratchada.
At Hollywood Awards Ratchada Soi 4, tickets are 1,500 baht, doors open at 1pm and Angelcorpse performs at 7pm.
Ritalinn Back From The Dead – Immortal Bar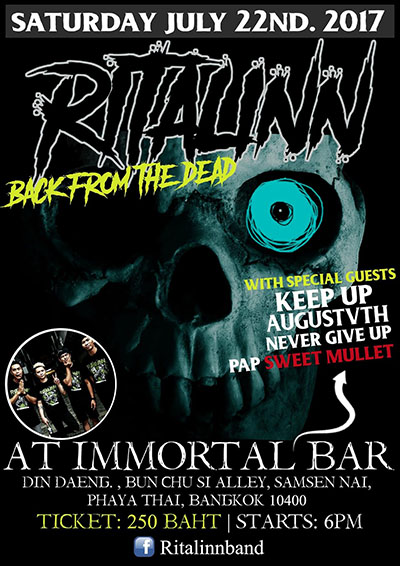 Immortal Bar is considered to be one of Bangkok's top venues, catering strictly to the underground hardcore-punk-Metal crowd. The venue opened its doors 17 years ago and prides itself for its no commercial music policy. Immortal Bar has played host to both international and local bands. This weekend, Thai emo-punk band Ritalinn will perform their hits. Proceeds from the gig will be donated to the bandekraeron children's home.
Tickets are 250 baht, the event starts at 6pm.
Dark Side Thailand – Jam
This event isn't a metal or a punk event, but the music played at Darkside Thailand is just as intense and dark. Gabba is a style of electronic music that has its roots in techno, happy hardcore and industrial music. Gabba's signature fast paced jack hammer beats often exceed two hundred bpm – just to give you an idea, a normal resting heart beat ranges 60 to 100 bpm.
The genre has huge following in Europe and according to Glaswegian DJ Sadistic, Gabba and hardcore events attract quite an eclectic crowd. Spearheading the movement in Thailand is DJ Sadistic himself. Flying in from Scotland to Join Sadistic is Weheyhey. Also joining him are Australia's Maloonatic and Thailand's own Space 360, plus visuals artist Chaos Theory.
Doors open at 8pm on Saturday at Jam. Entry is 200 baht and includes a drink.
July 29
Explicit Live – Residence de Canal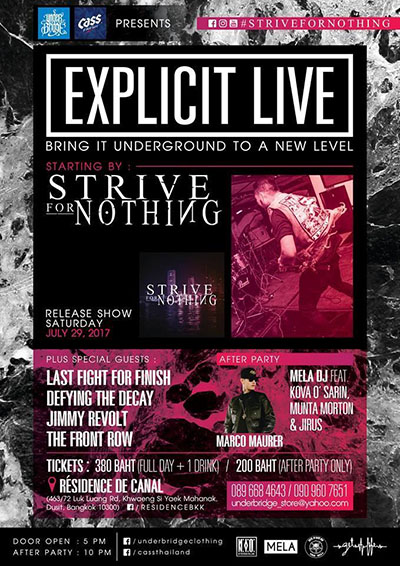 Ok so I may be cheating a bit here because this gig won't be until next week, but I just thought I'd give you all a heads up. Thai metal core band Explicit have worked with some of the best in the local and international artists in the industry such as "Evergreen Terrace," Andrew Carey and Acacia Strain's Vincent Bennet. Next weekend they take to the stage and will perform their new material. Sounds for the after party will be provided DJs Marco Maurer, Kav O' Sarin and Michael Morton.
The party starts at 5pm on July 29 at Residence de Canal. All-day tickets are 380 baht and include one drink. Tickets for the after party are 200 baht.
For me it doesn't matter if it's mosh pits or breakdance battles, music will always unify people. Have fun this weekend, mosh, throw up your devil horns and until next time, dub be good to you.