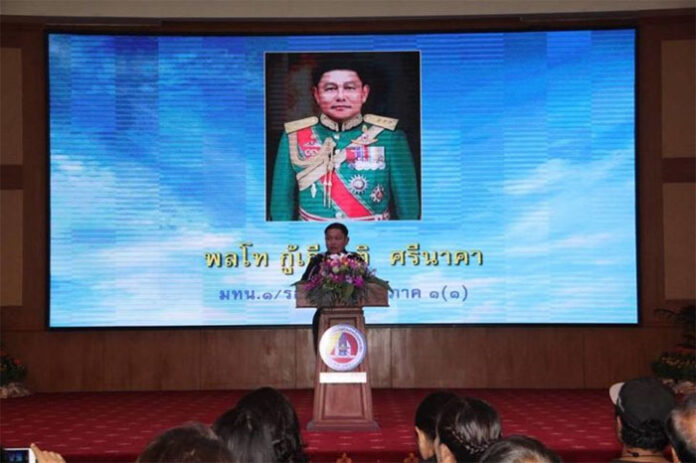 BANGKOK — A number of politicians and critics said they were unimpressed by a 10-point social contract introduced by the military regime Monday at a forum on national reconciliation.
Most of those interviewed after the event held at the 1st Army Division headquarters in Bangkok.said they saw it as a cosmetic exercise to shore up the junta's image and dwindling popularity at best, or an attempt to further impose its will on the people.
The meeting, led by 1st Army Corps commander Lt. Gen. Kukiat Srinaka, was attended by 312 people including representatives from civil society and the two largest political parties.
Kukiat said the aim was to foster unity and move the country forward peacefully. He assured that the forum – also being staged in the kingdom's four major regions – would be constructive and attentive to differing views. He said input would be collected for possible adjustment to the draft.
Some of the points were said to have been compiled from feedback people provided the government between Feb. 14 and May 8. Prime Minister Gen. Prayuth Chan-ocha is due – on an unspecified date – to read the final social contract to the public. Prayuth also added a 15-point addendum to the 10 points which includes a clause forbidding future administrations from abusing power to attain popularity and obliges office holders to perform their duties with integrity and accountability.
Junta spokeswoman Col. Sirichan Nga-thong said Monday that forums held in the four regions took place Monday through today. She said Input would be collected for the final version of the social contract.
The first of 10 items calls for unity under a quasi-democratic framework loaded with caveats such as the public's need to exercise rights "correctly."
It says "all Thais should seek to create an atmosphere of unity and reconciliation so Thailand could be one under a democratic system with the king at the head.
"Also, people should understand a true democratic system and exercise their rights and liberties correctly and in accordance with the law and [increased public] participation in politics. [They should] accept differing views and strengthen political institutions in a manner that will lead to free and fair elections while accepting electoral results which are considered the consensus of all Thais … ."
Finally, it calls for mechanisms for scrutinizing state power and solving problems "through parliamentary mechanisms."
The final two items which the government wants to promote urge public support for unspecified reforms and national strategic plans that have yet to be written.
Also worth noting is No. 7, which underscores the regime's hostility toward the press. It states that "all Thais should exercise caution when consuming news and information in order to ensure it is not distorted."
Others seem obvious, such as No. 4, which urges Thais to "conserve natural resources and the environment."
Critics said they were not convinced by the contract and dismissed it as a public relations exercise.
"The whole forum was nothing but an attempt to get people to cooperate with the regime," said Uchen Cheangsen, a political scientist at Walailak University in Nakhon Si Thammarat province. "I've seen many such forums. Many people get invited, but in the end, they mean nothing. This was an image-boosting process and more like ordering people to do as they say than anything close to being a social contract."
Uchen cited the first point, saying it's an example of the junta dictating what kind of "democracy" Thailand should have. The political scientist added that if the junta can be honest with itself, it would recognize it is one of the problems facing Thailand.
Gothom Ariya is an expert in public deliberation. Over the years, he has hosted countless forums where people of diverse political stripes have met to deliberate in an an environment of tolerance. Gothom said Tuesday he was not impressed by what the military government is doing.
"This is a process where people participate under the leadership and management of those in power. In a way, it's like organizing something that looks nice, but whether people really feel involved or own it is another matter. It's just a formality," he said.
Gothom warned that the process will not produce anything concrete if people are not allowed to genuinely contribute or amend the 10 points already set forth.
"They should adjust some of the points if there was any input. But if they were just there to notify participants [of the 10 points], there won't be any real exchange," Gothom said.
The deputy leader of the Democrat Party, Nipit Intarasombat, was more accommodating. He said his party sent a representative to attend the forum and is cooperating.
"They got the 10 points from listening to the people," Nipit said, adding that all 10 items seemed to be general statements all parties could agree upon, such as fostering democracy.
"These are norms that society should already have," he said.
Why then, would the military government go through the process if it should all be understood already? Nipit couldn't provide an answer, but said he also wondered why.
The veteran politician and former MP said the 10 points were vague and should be made more concrete. He added that he wonders how concerns by different stakeholders – such as the Redshirt belief that double-standards exist in the political and justice system, or Democrat Party supporters' complaint that Pheu Thai dismisses minority voices when in power – could be addressed by these forums.
On the other side of the divide, a former Pheu Thai MP and leader of Redshirt group United Front for Democracy Against Dictatorship, or UDD, said his party sent Redshirt leader Jatuporn Promphan to participate.
"The UDD has been targeted for destruction … So let us say that we won't obstruct or oppose the process," Weng Tojirakarn said. "But I don't know what results it will generate."
Jatuporn was sentenced to a year in prison Thursday by the Supreme Court for criticizing the leader of the Democrat Party in 2009.
Weng asked how people could endorse reforms and national strategic plans that haven't even been written yet by junta appointees. He also shared Nipit's sentiments in regard to the vagueness of most of the points.
"It's just something superficial. We don't know what the real deal will be. It's about shoring up the credibility of the National Council for Peace and Order, like putting on powder to make them look good," Weng said.